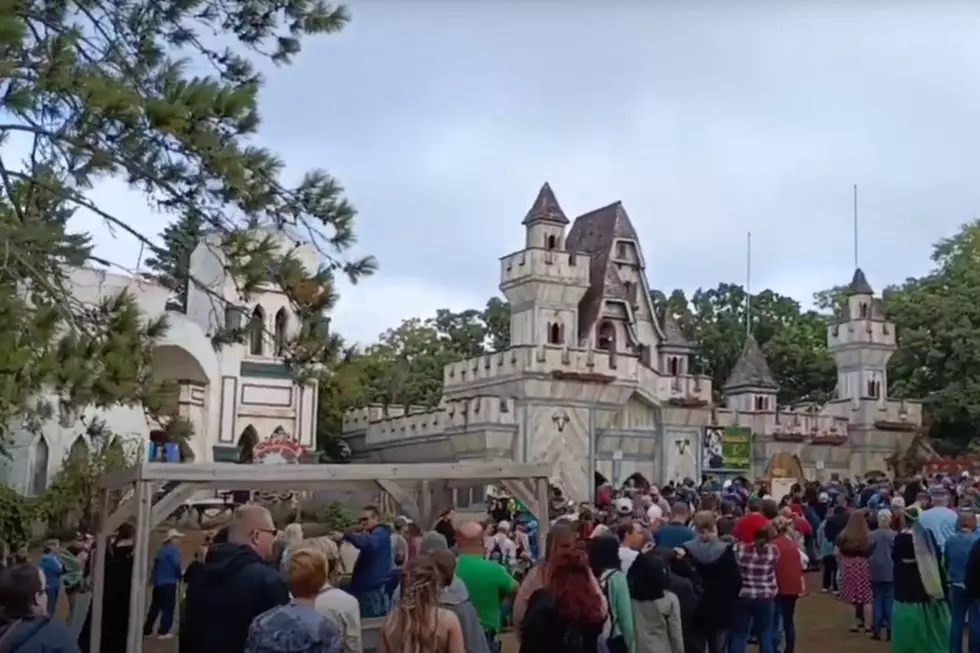 Minnesota Renaissance Festival Will Continue, Pending Changes
Francisca Journey/YouTube Screenshot
Five months before it's supposed to begin, the status of the 2023 Minnesota Renaissance Festival is finally a bit clearer.
According to AXIOS Twin Cities, Tuesday (March 21) in Shakopee, the Scott County Board of Commissioners unanimously adopted a resolution approving an amendment to the festival's Conditional Use Permit, giving Mid-America Festivals Corporation, which organizes the Minnesota Renaissance Festival, permission to move forward with this year's event, if they agree to update plans to resolve parking and traffic problems.
An amendment will require the festival to:
Create and present a transit and traffic management plan for approval on June 1
Secure bussing options, including park and ride lots, and encourage patrons to take the bus
Hire a professional parking company to manage the site
Implement a real-time messaging system to show if lots are full
Issue date-specific parking vouchers for each vehicle
The 2023 event is scheduled to run this year for seven weekends from August 19 through October 1.
In December 2022, officials in Scott County announced they were considering revoking the festival's permit to operate after roads leading to the venue were plagued by massive traffic jams during the 2022 event.
The county said officials at Mid-America were aware there would be reduced parking this year after a lease had expired on a lot that provided ten percent of the total on-site parking, but that information was never relayed to local officials.
At times during the festival's seven-week run from late August to early October, attendees reported waits of up to two hours to get a parking spot.
During an earlier public hearing on the matter, some local residents testified that they were unable to leave their homes because of traffic jams in the area.
One area patio furniture shop owner claimed that 80 percent of the local businesses around the site shut down during festival weekends because customers couldn't get to their establishments.
The event has grown into one of the country's largest and most successful Renaissance fairs, attracting about 300,000 people each year.
It has been operating at the current site since 1973.
Inside Minnesota's Largest Candy Store
I had been to Minnesota's Largest Candy Store once before, but they did some pretty cool things since the last time I was there. They added a bunch of superheroes, Star Wars stuff, and a candy band.
According to their
Facebook page
, Jim's Apple Farm is actually how the now huge candy store got its start. It is located in Jordan, MN and you can't miss it. It is a huge yellow building.
Even though candy is mentioned in the name, they have a little bit of everything. They have fresh baked pies and cookies and fudge. We walked in and it smelled amazing!
They also have the largest selection of sodas! Then there is chocolate and taffy and gummies and chips and puzzles and games. So much stuff!
They even have a Zoltar machine like in the movie, Big. I had to check that out. He told me the only helping hand is at the end of my arm. Gee, thanks Zoltar.
There were even crickets and worms! Not gummy worms, but actual worms.
They also have candy from all over the world!
The store is seasonal, however. November is their last month of operation for the season.
120 Year Old Minnesota Bridge Still In Use And Freaking Amazing
Minnesota known as the land of 10,000 lakes has one of the most unique old bridges still in use today. The Duluth Aerial Lift Bridge in Duluth Minnesota is what they call a span-drive configuration movable lift bridge.
Minnesota's Must See World's Largest Roadside Attractions
If you are making some family summer vacation plans maybe check out Minnesota's Roadside Attractions like the World's Largest Otter, Pelican, Babe The Blue Ox, and more!
More From KYBB-FM / B102.7