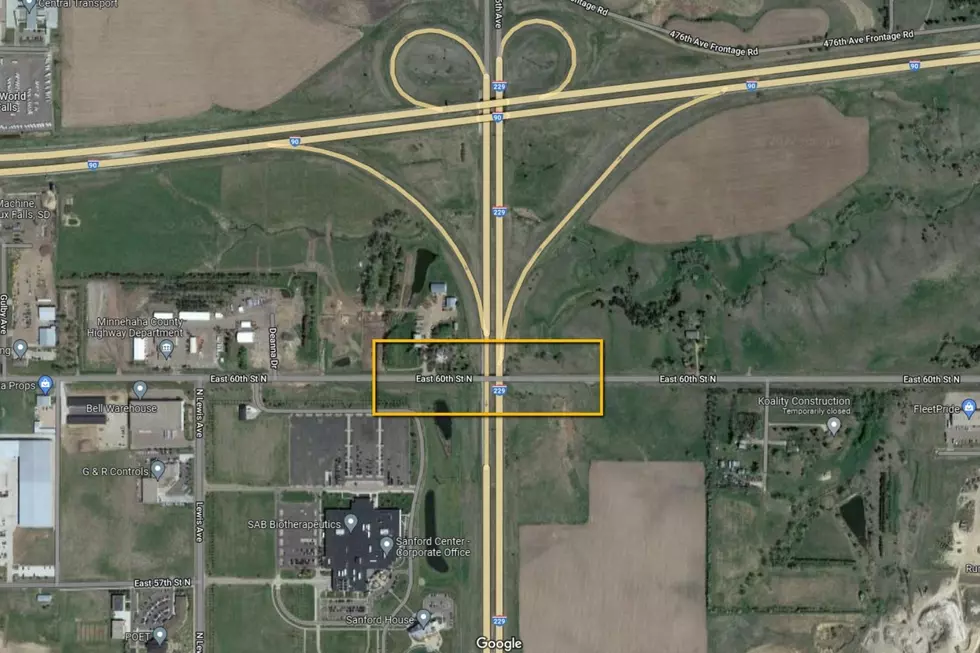 Construction Set to Begin on I-229 Bridge in Sioux Falls
Google Maps
Late January isn't typically a time we associate with road construction in this area, but there's an ongoing project that will enter its latest phase next week.
The South Dakota Department of Transportation says that work will begin Tuesday, January 24 on the 60th Street North bridge over Interstate 229 just south of the Interstate 90/229 interchange.
Grangaard Construction of Watertown will begin setting girders for the new bridge between 8:00 PM and 6:00 AM over the course of six non-consecutive nights.
While the work is being performed I-229 will be closed from the I-90 interchange to Benson Road in both directions. A detour route will be in place during the nightly closure.
For more information about this project, please see the featured project page.
9 Driving Laws in South Dakota that Might Surprise You, Some You Didn't Know Existed
There are some things you can do on South Dakota roads that you may have once thought illegal but aren't. Like, can you ride in the back of a pickup, or drive barefoot in South Dakota?
Here are a few to ponder:
Sioux Falls: Then and Now
The City of Sioux Falls has changed dramatically over the past several years. Some of the streets, landscapes, and neighborhoods look vastly different than just 10-15 years ago.
Here's a look at Sioux Falls, then-and-now. See if you can recognize some of these old buildings, businesses, and city streets.
The Ultimate Sioux Falls Visitor's Guide: A to Z
Sioux Falls
has lots to explore; fun stuff for the whole family, food of every kind, educational opportunities, and more! If you have out-of-town guests visiting, show them around our city. Eat at places they've never eaten. Take them to places they'd never go. Take some great photos to post on social media (
and don't forget the hashtag #HiFromSiouxFalls).
We've even listed some cool hotels where they can stay if you don't have the room.
It's a pretty awesome city and that's why we think you should come and visit. If you're coming on business or pleasure, we've put together a list of places to go and things to see. We know you want to explore the attractions the city is known for like Falls Park, the Arc of Dreams, and the Sculpture Walk, but there's a lot more to see and do than just the touristy (that's really a word) stuff. The best places to go are where the locals go and we have a not your average, ordinary visitor's guide.
Here's a list of over 100 things to do and places to go in Sioux Falls.
Click
HERE
for a list of all the places we mention and links to each one. Print it out or save it to your phone and use it as a reference when you're visiting. See you soon!
More From KYBB-FM / B102.7