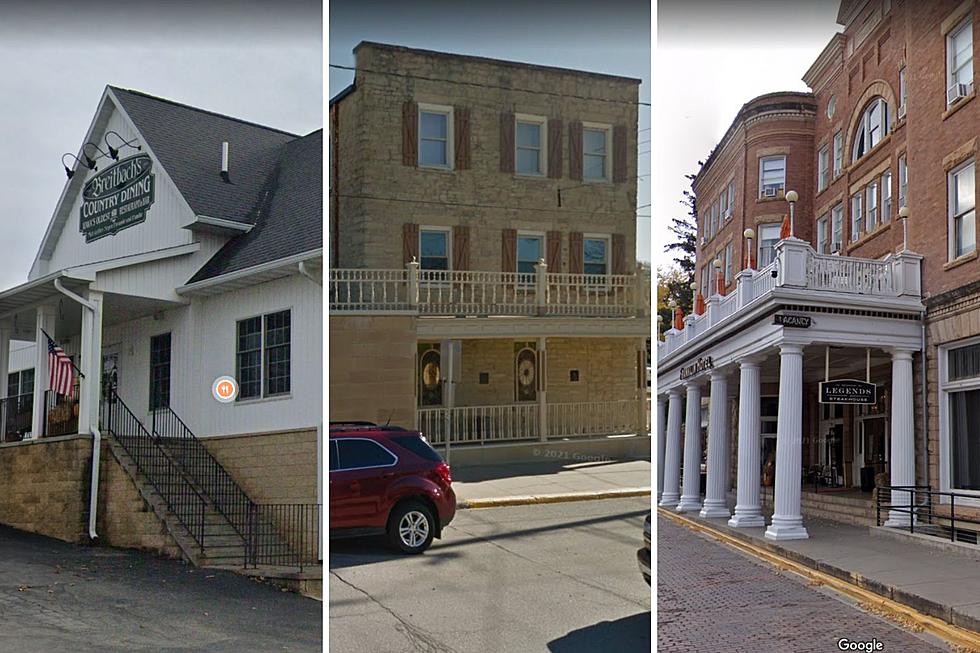 Which Are South Dakota, Iowa, and Minnesota's Oldest Restaurants?
Google Maps Street View
Over the years, restaurants come and go.
It's the nature of the business.
But there are a rare few eating establishments that stand the test of time and have generations of diners that have passed through their doors over the years.
Recently, Insider published a list of The Oldest Restaurant in Every State, from Historic Taverns to Classic Diners, and some go back to before the United States was a nation.
Places like:
White House Tavern - Newport, Rhode Island (1673)
'76 House - Tappan, New York (1686)
Red Fox Tavern - Middleburg, Virginia (1728)
Old South Mountain Inn - Boonsboro, Maryland (1732)
Black Horse Tavern & Pub - Mendham, New Jersey (1742)
Dobbin House Tavern - Gettysburg, Pennsylvania (1776)
Griswold Inn - Essex, Connecticut (1776)
In the Tri-State Area (Iowa, Minnesota, South Dakota), our history doesn't stretch back as far as the colonial states, but each has an establishment with doors that have been open for more than 100 years.
In Iowa, Breitbach's Country Dining has been serving up deep-fried pork tenderloin in tiny Balltown, 15 miles NW of Dubuque, since 1852.
According to the restaurant's website, it was launched thanks to a federal permit issued by President Millard Fillmore, more than 170 years ago.
Minnesota's oldest restaurant is Hubbell House in Mantorville, which is about 20 miles west of Rochester.
They actually pre-date the North Star State, opening in 1854, four years before Minnesota became the 32nd state in 1858.
According to their website, over the years they have hosted notables like Presidents Ulysses S. Grant and Dwight Eisenhower, as well as First Lady Lady Bird Johnson, Roy Rogers, and Danny Kaye.
South Dakota's oldest eating establishment is Legends Steakhouse, inside the Franklin Hotel in Deadwood.
They've been serving hungry travelers in the Black Hills since 1903 and have seen some famous faces dine there.
Presidents Theodore Roosevelt and William Howard Taft, as well as Babe Ruth, John Wayne, and Kevin Costner have all been guests over the past 120 years.
Check Out This 1962 Listing of Sioux Falls Bars and Restaurants - Do You Remember Any?
Check out this collection of
Sioux Falls
bars and restaurants. We have Giovanni's Steak House, The Rainbow Bar, Harry's Hamburgers, Eagle Bar and Lounge, Pancake House, Nickel Plate, and more. Do you remember any of them? Or how long any lasted?
Road Trip-Worthy Restaurants Within 90 Minutes of Sioux Falls
Veer off the beaten path. Take a road trip and try some favorite small-town eateries. Just by driving a few miles, you could find some delicious hidden gems.
From steaks to seafood, chislic to chicken, these are out-of-the-way unexpected finds that will make your taste buds tingle.
Here's a list of 14 Road Trip-Worthy Restaurants within 90 minutes of Sioux Falls.
10 Things You Quickly Learn When You Move To Minnesota
Would You Pay $350 To Stay In This Creepy Old Iowa Jailhouse?
Would you pay money to stay and sleep in this creepy 1880s Jailhouse in this small Iowa town? It might be haunted but they promise not to lock the doors.
More From KYBB-FM / B102.7