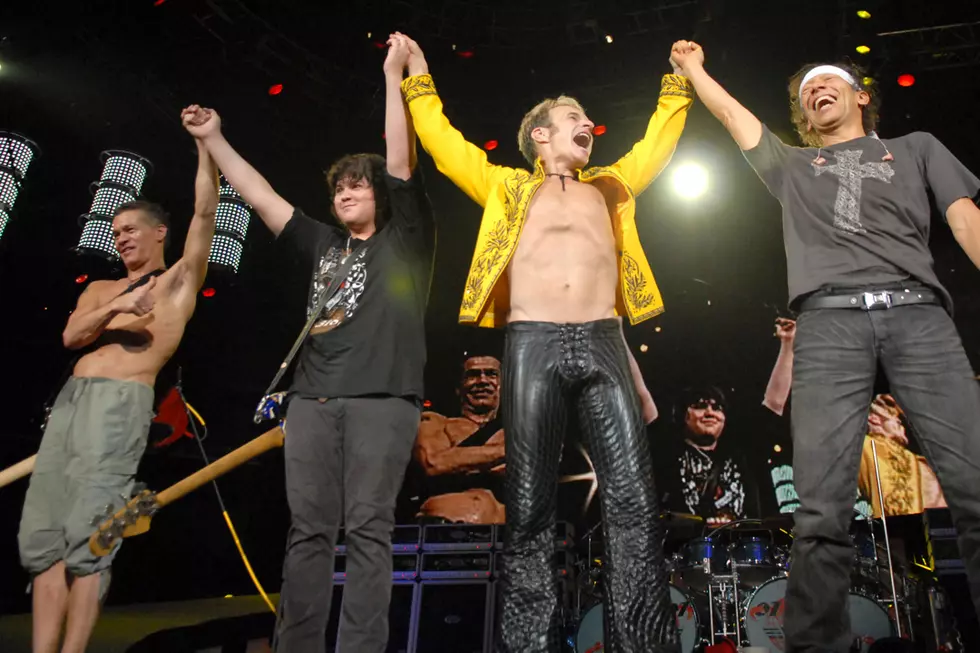 The Day Van Halen Reunited With David Lee Roth
Kevin Mazur, Getty Images
It took David Lee Roth just a little more than two minutes to utter his usual "Look at all the people here tonight!" line at his first concert with Van Halen in 23 years. Sept. 27, 2007, was an epic night in Charlotte, N.C., for fans who had been longing for the band's original singer to reaffirm his position at the mic.
Saddled with fits and starts over the years, the reunion between Roth and the Van Halen brothers, Edward and Alex, was first teased in 1996 at an ill-fated MTV Music Awards appearance, followed by a rumored but abandoned 2001 attempt. There was even an earlier try in February 2007, when the band announced a summer tour that was accompanied by a quote from Eddie: "I am very excited to get back to the core of what made Van Halen." But the guitarist then entered rehab, ostensibly for his documented alcohol problems, and the jaunt was scuttled until he completed the program.
In March, Van Halen were inducted into the Rock and Roll Hall of Fame, but only Sammy Hagar and Michael Anthony showed up at the ceremony -- and neither was a member of the group at that point. (Longtime bassist Anthony had been controversially jettisoned from the band in favor of Eddie's 16 year-old son Wolfgang, who would be handling bass duties on the upcoming tour.)
The show at Charlotte Bobcats Arena kicked off with the band's high-octane cover of the Kinks' classic "You Really Got Me," which found an ear-to-ear grinning Roth and Eddie exchanging a high-five at the song's conclusion, followed by the doo-wop shimmy "I'm the One," during which the singer noted, "It only took 20 years to get this f—-ing far." It was a testimony said in good fun, and somewhat surprising for a pair that had had so many acrimonious exchanges since Roth exited the group more than two decades earlier.
The shows featured an expansive S-shaped ramp that wound behind Alex's drum riser and into the audience. Roth, sporting a matador-style jacket, delighted fans with his ridiculously over-the-top cowboy-style riding of an inflatable microphone during the set closer "Jump" as barrels of confetti dropped over the audience.
As Roth promised in the August press conference that announced the reunion, Van Halen seemed like a "new band." With Wolfgang on board, the sound was going to incorporate a certain youthful infusion. And even with Anthony's absence, the old songs were welcomingly restored to the set list after being largely ignored during the Hagar era. Classics like "Hot for Teacher" and "Ice Cream Man" were brought back for the first time since Roth's initial run, while deeper cuts like "Little Dreamer" and "Beautiful Girls" reappeared from way back too.
Ultimately, it was a gleeful return, it quickly began to seem like a permanent one. Roth and Van Halen mounted massive subsequent tours since this initial reunion, and even made another album together, 2012's A Different Kind of Truth.
Van Halen Magazine Ads Through the Years: 1978-2012
See Rock's Epic Fails: Van Halen Edition
More From KYBB-FM / B102.7