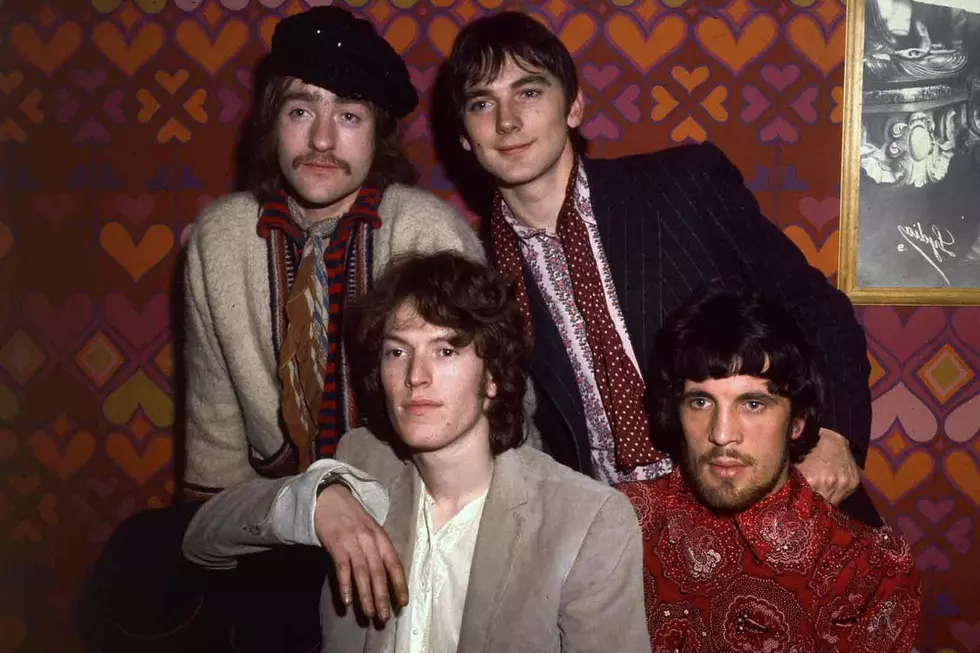 How 'Dear Mr. Fantasy' Become Traffic's 'Milestone' Song
Keystone / Getty Images
"I knew it wasn't just a good piece or a good track for a record," Traffic drummer and lyricist Jim Capaldi once said of "Dear Mr. Fantasy," the pseudo-title-cut from the band's kaleidoscopic debut LP. "I knew it was going to be a real milestone-type piece."
No, the British quartet never cracked the pop charts with the spiraling psych-rock song. (In fact, they never even issued it as a single.) But the six-minute "Fantasy" was designed more as a deep, mind-expanding bong hit than a quick joint puff: Steve Winwood's bluesy howl and the group's live-in-the-room exploration tapped into the same jam-sprung freedom flourishing at that time on America's West Coast.
Fittingly, since much of Traffic's early repertoire reveled in whimsy, "Dear Mr. Fantasy" originated from a doodle. "I'd drawn this character playing a guitar, with puppet hands instead of his own hands," Capaldi recalled in a video interview celebrating the 50th anniversary of Mr. Fantasy in 2017. "I wrote a letter next to it: 'Dear Mr. Fantasy, play us a tune.'"
At the time, the band -- Capaldi, Winwood, multi-instrumentalists Dave Mason and Chris Wood -- were holed up at Sheepcote Farm, a rural cottage in Berkshire, England, owned by baronet Sir William Pigott-Brown, a friend of Island Records founder Chris Blackwell. Experimenting with weed and LSD, and living among the filth of their own dirty dishes and laundry, the young men cooked up much of Mr. Fantasy at this ragged sanctuary.
"There was no running water, there was a well and no electricity," Winwood told Louder Sound. "Blackwell took the gamekeeper's cottage down the lane so he could make sure we rehearsed and wrote material. It was a place where we could make as much row as we liked – and we certainly did."
During one ordinary vice-filled afternoon, "Fantasy" emerged.
"I was asleep upstairs in the cottage, and I heard this nice little bass line going and some guitar," Capaldi said in the documentary. "I woke up, went down — we'd jam all time of the day, and we'd all take breaks, do whatever."
"[I] found that they'd written a song around the words and drawing I'd done," he told Louder Sound. "I was completely knocked out by it. Chris wrote that great bass line. We added some more words later and worked out a bigger arrangement too."
Armed with a batch of songs that sprawled from psych to blues to soul to Beatlesque Indian nods, Traffic eventually moved to London's Olympic Studios with producer Jimmy Miller, with whom Winwood had collaborated as part of his previous band, the Spencer Davis Group.
Miller was crucial in capturing the song's free-flowing vibe on tape, which they only achieved after scrapping the traditional recording booths and tracking as a live four-piece: Winwood on electric guitar and vocals, Mason on bass, Wood on organ and Capaldi on drums. A surprise fifth member was Miller, who augmented the groove by rushing from the control room to lay down some extra percussion.
"We were in the middle of a take and there's a part where the tempo changes — it jumps — and I look around, and Jimmy Miller's not in the control room," engineer Eddie Kramer told Mix.
"The next thing I see out of the corner of my eye is Jimmy hauling ass across the room, running full tilt. He jumps up on the riser, picks up a pair of maracas and gets them to double the tempo! That, to me, was the most remarkable piece of production assistance I'd ever seen. They were shocked to see him out there, exhorting them to double the tempo. Their eyes kind of lit up. It was amazing."
"Fantasy" thrives on that anything-can-happen energy: Capaldi's thumping kick drum accents and tumbling fills, the double-time grooves, Winwood's Jimi Hendrix-like solo, that tempo-shifting finale. From 1967 onward, it became a staple of Traffic's live show -- performed more than any other song in their catalog.
And kindred spirits followed suit onstage. Grateful Dead introduced a faithful cover in 1984, a showcase for keyboardist-singer Brent Mydland, and continued to perform it up through 1990. (Jerry Garcia even joined Traffic for a version during their 1994 reunion tour, documented on the live set The Last Great Traffic Jam.) Several other rock legends have paid tribute, including Hendrix, Crosby, Stills & Nash, mid-'90s Fleetwood Mac (featuring a briefly tenured Mason), Peter Frampton and Eric Clapton (alongside Winwood).
"Dear Mr. Fantasy" "was done on impulse with practically nothing worked out, because it was almost jammed," Winwood told Rolling Stone in 1969. "The initial spirit of the whole thing was captured on record — which is very rare. That was one of the things, because it's not specifically an outstanding melody or an outstanding chord sequence or anything. It's basically quite simple. They're very simple lyrics and they're repeated three times. ... It wasn't half so strong after we'd done it. It was time that gave it a lot of meaning."
Hear Traffic Perform "Dear Mr. Fantasy"
Masterpieces: The Very Best Albums From More Than 100 Classic Rock Acts
More From KYBB-FM / B102.7