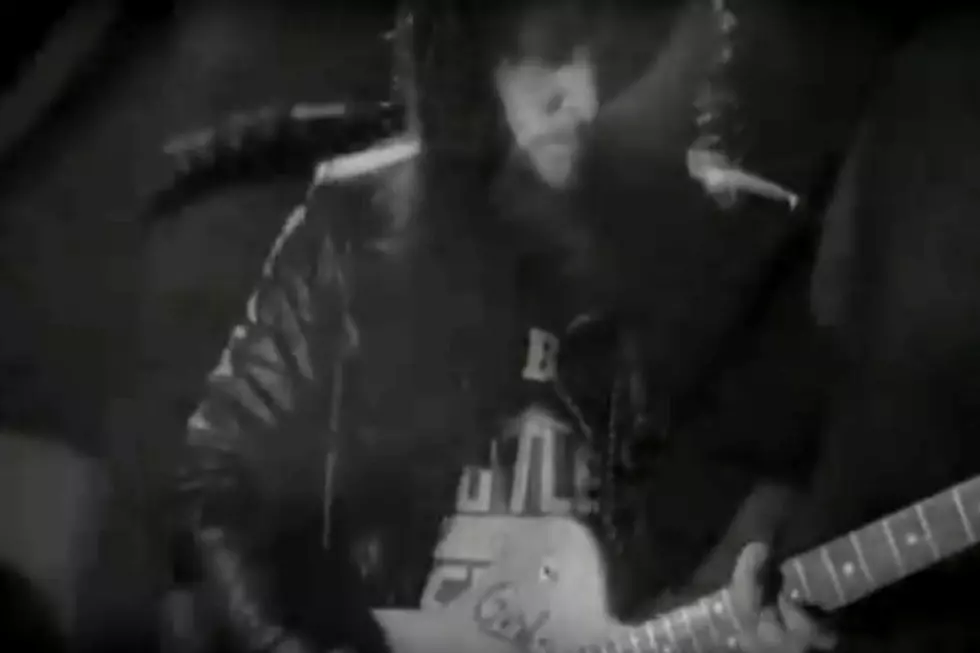 Why Motley Crue's 'You're All I Need' Was Banned by MTV
YouTube
As the multi-platinum sales Mötley Crüe racked up throughout the '80s can attest, they definitely weren't opposed to courting the mainstream. But in their early days, they were also always just a little too dangerous for prime time — as they demonstrated with the banned first cut of their video for 1987's "You're All I Need."
For the clip, which you can watch below, the band hooked up with director Wayne Isham to depict the dark imagery of the lyrics, which outline the violent end of a doomed relationship. Filming in black and white, Isham told the story of a man and woman whose destructive bond is severed when he kills her — and then, after destroying their home, is taken in by police. It's the kind of story we've all seen play out countless times, both in Hollywood and in real life, but as far as network execs at MTV were concerned, it was too violent to air.
"There's a positive and negative side to everything," Crüe bassist Nikki Sixx noted in a statement after the video was rejected. "That includes the music and videos of Mötley Crüe. But some people seem to focus only on the negative.
"'You're All I Need' doesn't condone or exploit this tragedy," Sixx added. "It clearly shows how one life is destroyed and another ruined forever. And it's probably a lot less graphic than much of what we see on the 6 o'clock news every night."
At the time, the band's Girls, Girls, Girls album was already well on its way to its eventual quadruple-platinum certification, and they'd already been through something similar with MTV over the original video for the record's title track. Understanding that any publicity is good publicity, Sixx added, "Mötley Crüe has had a good relationship with MTV for years. We're just sorry they can't see things from our point of view."
Watch Motley Crue's 'You're All I Need' Video
Interestingly, as Sixx would later relate in his Heroin Diaries memoir, "You're All I Need" was inspired by some real-life violent impulses. Convinced his girlfriend at the time had been cheating on him with actor Jack Wagner, who was then enjoying a taste of pop stardom with his hit single "All I Need," Sixx wrote his own song — then played it for his ex.
"I took the cassette over to her apartment and I didn't say anything. I just had a little cassette player and I just played it for her, and she started crying, and I walked out the door," Sixx later told Rolling Stone. "I was like, 'Well now, that's that.'"
That wasn't quite that: Sixx admitted in his book that he hired "some local bikers" to ambush Wagner outside the studio and "break [his] kneecaps, then tell him Nikki Sixx sends his love" — but according to his version of events, nothing ended up coming of it. As Sixx told it, Wagner coincidentally happened to fall and break his knee while filming, which was enough to prompt a tearful call from his ex accusing Sixx of making good on his threat — and presumably put an end to the vendetta.
"You're All I Need," meanwhile, didn't end up getting much of a boost from all the controversy. Although the title track added another crossover hit to the group's growing list, this was the rare late '80s power ballad to whiff on the charts, making it no higher than No. 83 on the Billboard Hot 100 and missing the rock radio charts completely.
Mötley Crüe would have to wait until their next album, 1989's Dr. Feelgood, to score a big ballad with their Top 10 "Without You" — and a video featuring zero murders or arrests.
Top 50 Classic Heavy Metal Albums
We take a look at some of the heaviest, loudest and most awesome records ever made.
Think You Know Motley Crue?
More From KYBB-FM / B102.7