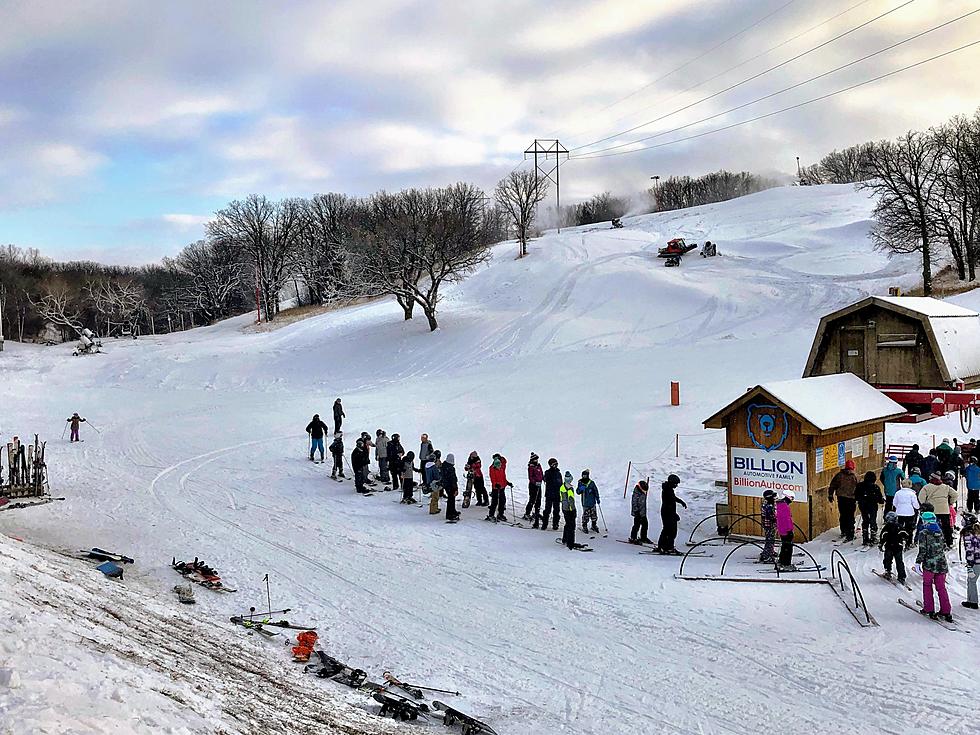 Sioux Falls Great Bear Ski Valley Closes For Winter Storm
Danny V/Townsquare Media
The Sioux Empire has been living in a Winter Wonderland for the last few weeks. This winter weather trend is continuing this week with a Winter Storm Warning in effect beginning on Monday afternoon continuing through Tuesday evening.
This massive snowstorm is going to cause serious issues on the roads and for businesses as well. One business that thrives on winter weather will be closed throughout the day on Tuesday. This popular local ski lodge will even close early on Monday.
Dakota News Now is reporting that Great Bear Ski Valley is adjusting its hours due to the winter storm heading towards the Sioux Empire. The ski valley even provided a post on its Facebook page about its modified hours.
Great Bear Ski Valley states that it "will be closing at 5 pm (Monday) due to the incoming storm and we will be closed tomorrow (Tuesday) due to the forecasted inclement weather." This closure might come as a shock to snow lovers across the Sioux Falls region. However, the team at Great Bear Ski Valley explains this closure is necessary to keep its patrons and staff safe from the inclement weather.
Our weather partners at Dakota News Now have been tracking this significant snowstorm in our area. Here is the latest information about this severe storm:
"A Winter Storm Warning is in place for southern and eastern South Dakota, southwestern Minnesota, and part of northwestern Iowa. A Winter Weather Advisory is in place for parts of central and northeastern South Dakota. An Ice Storm Warning for parts of northwestern Iowa. These alerts begin Monday and will last through the afternoon and early evening Tuesday.
We've already got snow developing south of I-90 this morning. We'll see snow continue to develop and spread across the region, especially heading into this afternoon and evening. Sleet and freezing rain are expected across the southeastern counties heading into the afternoon and evening hours. The precipitation should become all snow again late Monday night into early Tuesday morning, and continue throughout the day Tuesday.
As far as accumulations go, the heaviest snow will be in an area from Winner to Mitchell to Marshall, where a foot of snow or more could be possible. Totals will be lower the further northwest you go and also in the areas that see the freezing rain and sleet. Ice accumulations will run from two tenths to four tenths of an inch in the Ice Storm Warning. Areas like Sioux Falls, Brookings, Marshall and Yankton could see up to two tenths of an inch of ice.
Once the system moves out, we'll cool down for a few days with highs in the teens to near 20. Temperatures look to bounce back closer to average heading into next weekend, and the next chance of precipitation looks to occur next Saturday in the form of a few light snow showers."
You can always stay with Dakota News Now for the latest weather information.
Enjoy this winter extravaganza!
10 Wild South Dakota Snowstorms
Even though snow is blanketing the Sioux Empire, some snowstorms still do not compare to these ten dreadful snowstorms that hit
South Dakota
.
Only In Your State
highlighted ten snowstorms in South Dakota as a reminder for people to always be aware of the road during the winter. South Dakotans are well aware of the fact that the state's winters can be harsh which is why it is always a good idea to plan ahead and prepare for the worst.
Do you remember any major snowstorms that hit South Dakota?
A Survival Guide For Your First Winter in South Dakota
Sioux Falls,
South Dakota
, and the rest of the Sioux Empire (AKA southeastern South Dakota) are welcoming thousands of new residents every year.
Many of you new folks will be experiencing your first eastern South Dakota winter. While it doesn't usually get as bad as our Dakota friends up north, I speak from experience when I say it can get a little rough.
So, to help ease you into winter in Sioux Falls and South Dakota here are some winter survival tips:
More From KYBB-FM / B102.7