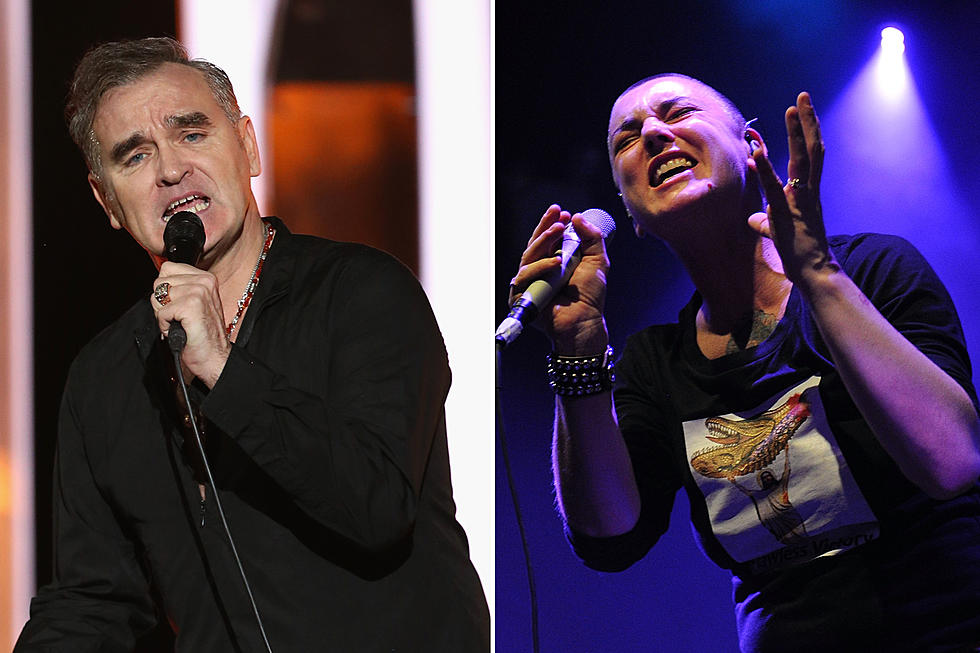 Morrissey Rips 'Insultingly Stupid' Sinead O'Connor Coverage
Chris Jackson / Jason Kempin, Getty Images
As the world mourns the death of acclaimed Irish singer Sinead O'Connor, Morrissey has criticized media outlets and the record industry for not supporting O'Connor during her life.
"She had only so much 'self' to give," Morrissey wrote to his website. "She was dropped by her label after selling 7 million albums for them. She became crazed, yes, but uninteresting, never. She had done nothing wrong. She had proud vulnerability … and there is a certain music industry hatred for singers who don't 'fit in' (this I know only too well), and they are never praised until death - when, finally, they can't answer back."
From there, the former frontman of the Smiths turned his ire towards the media.
"The cruel playpen of fame gushes with praise for Sinead today … with the usual moronic labels of 'icon' and 'legend," Morrissey wrote. "You praise her now ONLY because it is too late. You hadn't the guts to support her when she was alive and she was looking for you. The press will label artists as pests because of what they withhold … and they would call Sinead sad, fat, shocking, insane … oh but not today! Music CEOs who had put on their most charming smile as they refused her for their roster are queuing-up to call her a 'feminist icon,' and 15 minute celebrities and goblins from hell and record labels of artificially aroused diversity are squeezing onto Twitter to twitter their jibber-jabber … when it was YOU who talked Sinead into giving up … because she refused to be labeled, and she was degraded, as those few who move the world are always degraded."
Morrissey went on to compare O'Connor to Judy Garland, Whitney Houston, Amy Winehouse, Marilyn Monroe and Billie Holiday, all immensely talented and successful female artists whose tragic deaths were caused by drugs or alcohol. It should be noted that O'Connor's official cause of death has not yet been announced.
"Was this music madness worth Sinead's life?," Morrisssey continued. "No, it wasn't. She was a challenge, and she couldn't be boxed-up, and she had the courage to speak when everyone else stayed safely silent. She was harassed simply for being herself. Her eyes finally closed in search of a soul she could call her own. As always, the lamestreamers miss the ringing point, and with locked jaws they return to the insultingly stupid 'icon' and 'legend' when last week words far more cruel and dismissive would have done. Tomorrow the fawning fops flip back to their online shitposts and their cosy Cancer Culture and their moral superiority and their obituaries of parroted vomit … all of which will catch you lying on days like today … when Sinead doesn't need your sterile slop."
Top 100 '90s Rock Albums
Any discussion of the Top 100 '90s Rock Albums will have to include some grunge, and this one is no different.
More From KYBB-FM / B102.7