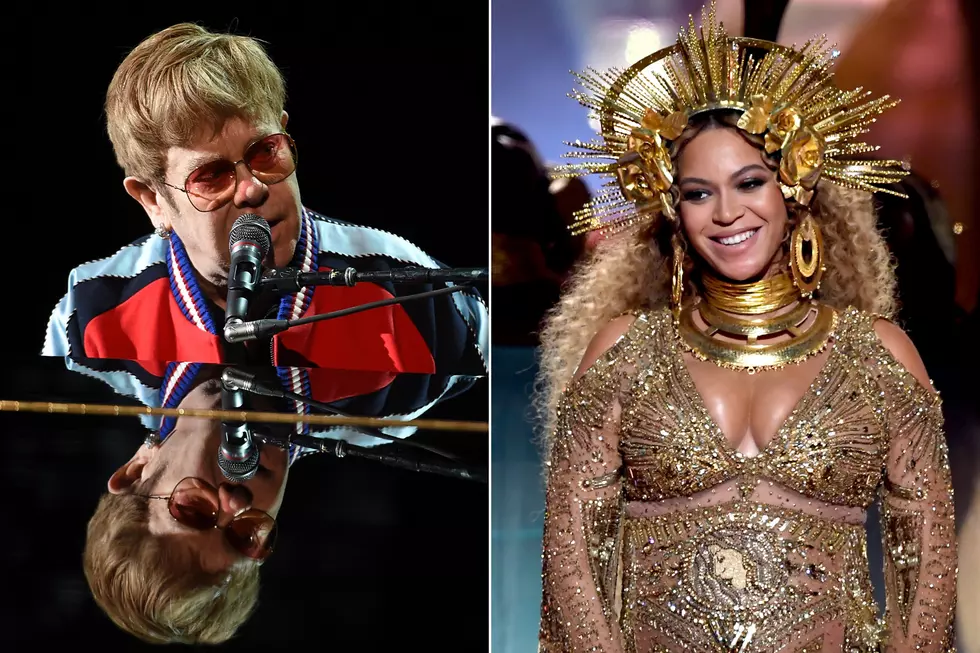 Elton John to Collaborate With Beyonce on New 'Lion King' Song
Kevin Winter, Getty Images
Back in November, Elton John announced that he was reworking parts of his Oscar-winning soundtrack to The Lion King for Disney's upcoming live-action remake of the animated hit. It now appears that he and lyricist Tim Rice are going to work with Beyonce, who stars as Nala in the movie, to create a new song for the film.
As John told the Sun, four songs from the original 1994 movie -- "Can You Feel the Love Tonight," "Hakuna Matata," "I Just Can't Wait to Be King" and "Circle of Life" -- have been worked into the new version. This new track is slated to play as the credits roll.
"They need to have a new end-credits song," John said. "We've been speaking to Beyonce's people, and hopefully Tim and I and her can cook up something. That's going out in 2019 as well. And it will be great to work with her. So we will see."
A new number will not only give the movie a potential hit single, it will also qualify for an Academy Award nomination for Best Original Song, which can only be given out to a tune written specifically for a movie. "Can You Feel the Love Tonight" won that award in 1995, while both "Circle of Life" and "Hakuna Matata" received nominations.
Jon Favreau (director of the first two Iron Man films and star of Swingers) is directing the picture, which also stars Donald Glover (Community, Atlanta) as Simba. Even though it's not coming out until next year, John has already received a sneak preview.
"I've seen a little bit of the opening of it, which is amazing," he said. "Jon Favreau ...  did an amazing job on [2106's live-action] The Jungle Book. The film is going to be amazing."
Elton John, Movie Star: Examining the Rocket Man's Film and TV Career
More From KYBB-FM / B102.7