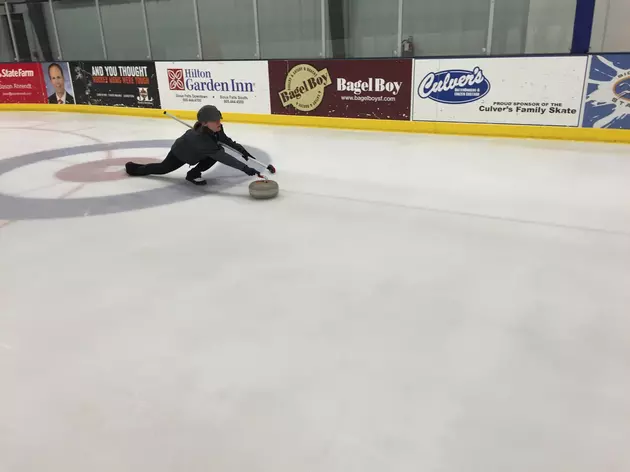 Curling Slides into Sioux Falls Sports Scene
Morgan Weber/Sioux Falls Curling
Sioux Falls is on the verge of a major curling growth curve. Those who strategically stop stones on ice want to introduce you to the sport.
Sioux Falls Curling has supported league play since 2013. Curler Austin Weber describes how four people on a team get a 42-pound stone into the right position.
"There's one person delivering on your team. Two people sweep the stone. So if you're stone is thrown a little short you can sweep to carry it further. The last team member is on the far side which is called the house. They are directing traffic by communicating to the sweepers if the stone is on target."
If the prospect of pushing such a large stone seems daunting, Weber believes all types of players can enjoy the game.
"It really doesn't matter your age bracket or physical adeptness in your ability to participate. There is something called a delivery stick to deliver from a seated position without having to do regular slide delivery. It's very accessible for middle school children up into people in their 70's and 80's even if you don't have full mobility."
Being heavily involved in curling now doesn't mean that Weber always had a desire for the sport. In the beginning it filled idle time.
"A few years ago my wife and I moved to Bismarck and we needed something to do to meet people. It was an Olympic year and we had seen curling on that stage. Much like what we're doing Saturday, it was a 'Learn to Curl' event to explore the basics of the sport. Over time we've built a lot of friendships and we love the camaraderie of being with the people who do it."
Weber feels the rules are easy to learn, but the nuances on how to be skilled in the sport are challenging.
"The idea of throwing a stone down a sheet of ice and getting it to stop in a circle is not that different from rolling a bowling ball down the lane and trying to hit ten pins. As you get more competent you can fine tune your abilities to be more effective."
Sioux Falls Curling will host an event at the Scheels IcePlex on Saturday afternoon at 3:15 PM where players from novices to experienced will be randomly drawn and placed on teams to help teach the sport plus a skills competition to follow. There is an entry fee to participate but spectators can watch for free.
There are spring and fall leagues for curling. They occur on a weekly basis and players can participate in the sessions that meet on Sunday afternoon, Sunday evening, Monday evening or Wednesday evening.
More From KYBB-FM / B102.7