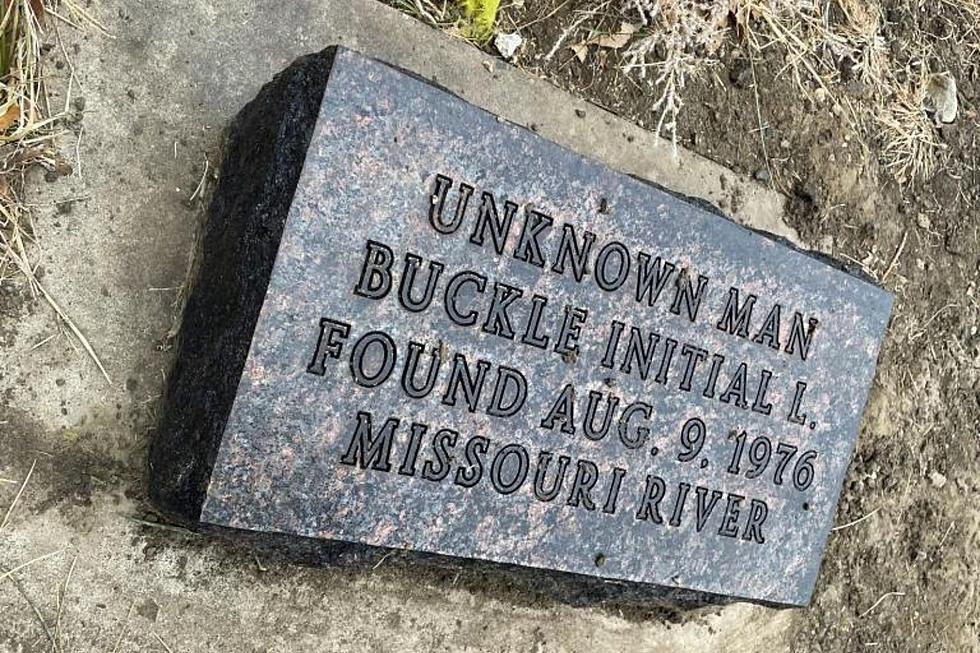 Body Found in South Dakota River Identified 46 Years Later
South Dakota Attorney General's Office
21st-century technology has been used to solve a 20th-century South Dakota cold case.
The South Dakota Attorney General's Office, using current forensic testing, has finally identified a body found in the state back in the summer of 1976.
Back on August 9 of that year, the body of a deceased male was found in the Missouri River, eight miles east of Farm Island, near Pierre.
At the time, an autopsy was performed ruling out foul play and listing the official cause of death as drowning. But because the body was so badly decomposed, there was no way to positively identify it.
A set of partial fingerprints were recovered but there was no one in the system to compare them to.
The body was eventually buried at the Riverside Cemetery in Pierre as 'Unknown Man'.
Fast forward to 2020 and the cold case was reopened by Pierre Police Department Detective Trevor Swanson after a permit was obtained from a judge to exhume the remains. Those remains were disinterred on October 8, 2021, and samples were collected in order to obtain a DNA profile.
In 2022, Swanson began working as a Special Agent with the South Dakota Division of Criminal Investigation, but he remained assigned to the case. With assistance from the South Dakota Forensic Laboratory, the unidentified individual's DNA profile was compared to results found in genetic genealogy databases which resulted in a potential match for 39-year-old Stephen Earl Boice, whose last known address was Seattle, Washington.
Investigators then obtained a 1962 fingerprint card that had been collected from Boice and determined that he was, in fact, the individual who drowned in South Dakota in 1976.
After his surviving family members were contacted, they requested that the body be reinterred at Riverside Cemetery. That ceremony took place last fall.
A permanent headstone marker was placed at the gravesite in April.
---
TRENDING FROM RESULTS-TOWNSQUARE MEDIA SIOUX FALLS
---
4 South Dakota Stories Featured on 'Unsolved Mysteries'
I am a longtime fan of the television show
Unsolved Mysteries
. The classic version from the 80s/90s. I remember a few times the late Robert Stack introduced a mystery in
South Dakota
.
Looking through their archives, we found four South Dakota mysteries that were featured on
Unsolved Mysteries
. Do you remember these cases that still have a lot of unanswered questions?
Totally True Ghost Stories Told By the People of Sioux Falls
I'm not sure I totally believe in ghosts or the paranormal, but I do enjoy a good ghost story, and the people of
Sioux Falls
had some great ones!
We asked our listeners to tell us their scary stories Maybe it was a ghost, maybe you thought someone was in the house, maybe you heard weird noises, maybe stuff moved without anybody touching it! We wanted to hear it all!
Some of these are so creepy! Continue reading....if you dare!
Meet 4 South Dakota- Born Super Scientists
But, I want to talk about scientists. The super scientists that South Dakota has produced. Here are four that were born in South Dakota. Their work was important to nuclear physics, computer science, and agriculture; and affects us to this day.
More From KYBB-FM / B102.7