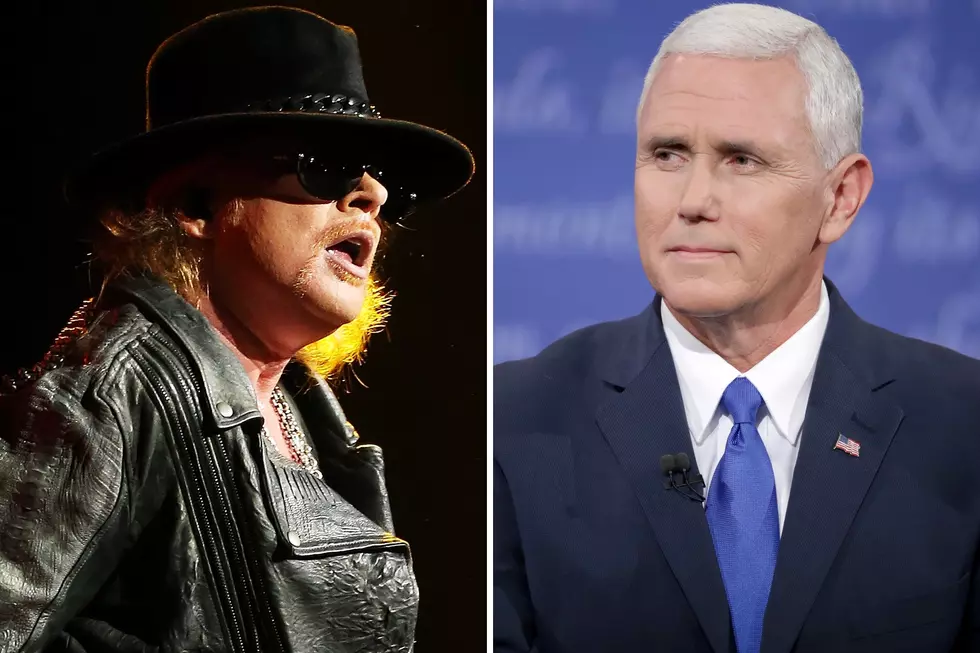 Axl Rose Criticizes Vice President's Football Game 'Publicity Stunt'
Mark Metcalfe / Chip Somodevilla, Getty Images
Axl Rose skyrocketed to fame after putting down roots on the Sunset Strip, but he was an Indiana boy first — and he's ended a long social media hiatus to take issue with the state's former governor, Vice President Mike Pence.
The Guns N' Roses frontman doesn't use social media much, but he was inspired to take to Twitter after Pence made headlines when he traveled to Indianapolis for the NFL matchup between the Colts and the San Francisco 49ers on Oct. 8 — and then left the stadium before the game started, tweeting that he'd decided to exit because he didn't approve of players opting not to stand during the national anthem as a form of political protest.
Pence has been widely criticized for his quick departure, which — as political analysts have pointed out — amounted to a detour costing nearly $250,000 in taxpayer money. Because the current administration has made a point of criticizing athletes who use the anthem as a protest forum — and comments that have led some to believe Pence always planned on leaving early — the press narrative surrounding the incident has largely framed it as a political stunt that backfired.
That's an opinion that's evidently shared by Rose, who made his first Twitter post in months in order to sarcastically thank Pence for the "$200k Colts game PR stunt." This isn't the first time Rose has publicly expressed his displeasure with the way the White House is being run; after the presidential election last year, he urged victorious Republican candidate Donald Trump to "stop whining," then called out against the nomination of Jeff Sessions for Attorney General.
Meanwhile, on the musical front, Guns N' Roses continue their massively popular Not in This Lifetime Tour; as the VP was jetting in and out of Indianapolis, the band was setting up in Philadelphia, where they played the Wells Fargo Center and delivered a set list that included the first performance of "Madagascar" featuring guitarist Slash and bassist Duff McKagan. Check out video from the show below.
20 Most Historic Guns N' Roses Concerts
More From KYBB-FM / B102.7