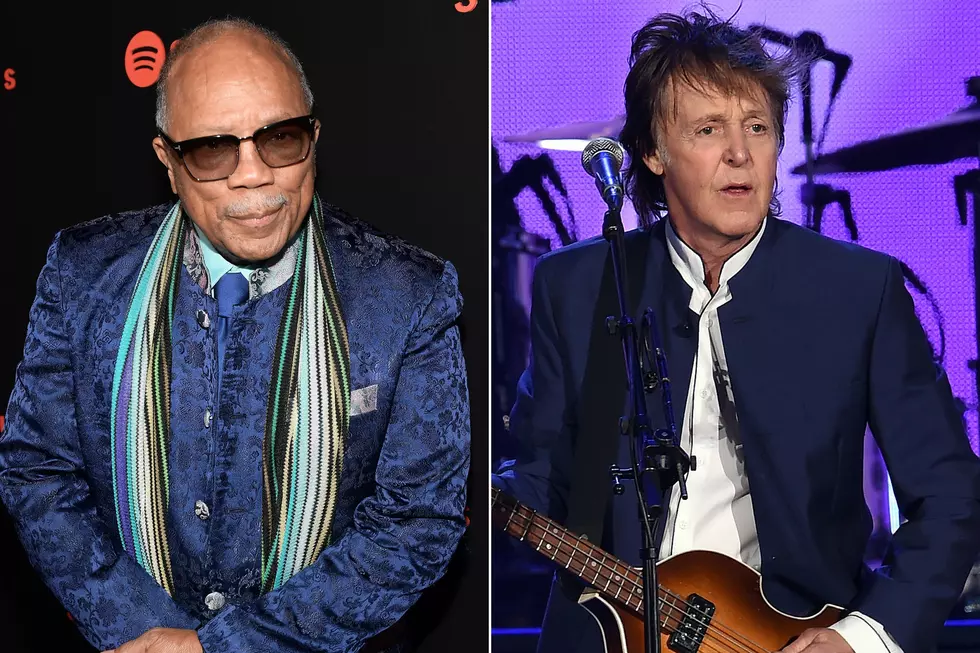 Quincy Jones Says the Beatles Were 'No-Playing Motherf—ers'
Matt Winkelmeyer / Kevin Winter, Getty Images
As a composer, arranger and producer on scores of hit records, Quincy Jones is known for possessing some of the best ears in the music business. So it might surprise you to learn he's not a fan of the Beatles.
In a new interview, he gave a particularly unfavorable description of how he felt when he first heard the band. Speaking to Vulture, Jones recalled that "they were the worst musicians in the world. They were no-playing motherfuckers. Paul [McCartney] was the worst bass player I ever heard. And Ringo [Starr]? Don't even talk about it."
Jones also talked about his role arranging "Love Is a Many-Splendored Thing" for Starr's 1970 solo album Sentimental Journey. "I remember once we were in the studio with George Martin," he said, "and Ringo had taken three hours for a four-bar thing he was trying to fix on a song. He couldn't get it. We said, 'Mate, why don't you get some lager and lime, some shepherd's pie and take an hour and a half and relax a little bit?' So he did, and we called Ronnie Verrell, a jazz drummer. Ronnie came in for 15 minutes and tore it up. Ringo comes back and says, 'George, can you play it back for me one more time?' So George did, and Ringo says, 'That didn't sound so bad.' And I said, 'Yeah, motherfucker, because it ain't you.' Great guy, though."
Still, Jones admitted that he's a fan of Cream ("They could play") and noted that Microsoft founder Paul Allen "sings and plays just like Jimi Hendrix. ... I went on a trip on his yacht, and he had David Crosby, Joe Walsh, Sean Lennon — all those crazy motherfuckers. Then on the last two days, Stevie Wonder came on with his band and made Paul come up and play with him — he's good, man."
Jones also weighed in on U2's recent records. "I love Bono with all my heart, but there's too much pressure on the band," he said. "He's doing good work all over the world. Working with him and Bob Geldof on debt relief was one of the greatest things I ever did. It's up there with 'We Are the World.'"
More From KYBB-FM / B102.7