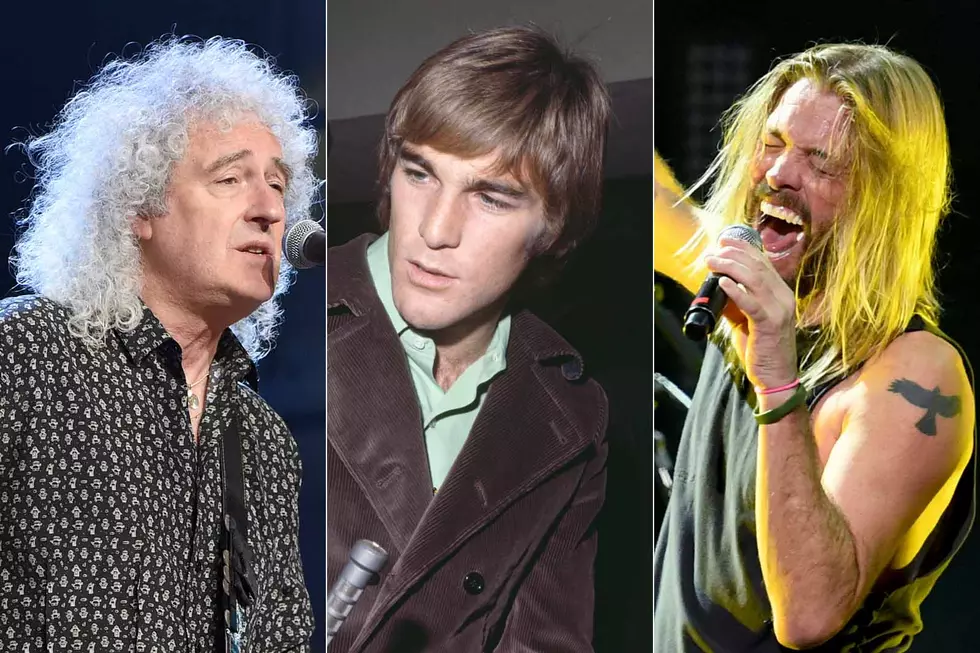 Members of Queen and Foo Fighters Finish Lost Dennis Wilson Track for Record Store Day
Jamie McCarthy / Hulton Archive / Kevin Winter, Getty Images
Brian May and Roger Taylor of Queen have teamed up with Taylor Hawkins of Foo Fighters to complete a track that late Beach Boys drummer Dennis Wilson started more than 40 years ago. The single, "Holy Man," will be sold on Record Store Day, this Saturday, April 13.
As Queen's official site notes, Wilson wrote and recorded "Holy Man" in 1977 but didn't complete it for his only solo album, Pacific Ocean Blue. Ten years ago, Hawkins put vocals to it, and now May and Taylor have added their own parts. The b-side is Wilson's instrumental version that found a home as a bonus track on the 30th anniversary re-issue of the album from 2008.
The single is the fourth Queen-related offering on tap for Record Store Day, which you can learn more about here. The band is issuing a picture disc of the soundtrack to Bohemian Rhapsody and a colored vinyl single of "Bohemian Rhapsody" backed with "I'm In Love With My Car." May is also putting out a 12" single of "New Horizons," the song he recorded in celebration of NASA's New Horizons probe flying past Ultima Thule, an object beyond Neptune's orbit 4.1 billion miles from Earth.
Two months ago, Hawkins spoke of the influence of Roger Taylor when he sat in with the Foo Fighters for a rendition of "Under Pressure" in Atlanta the night before the Super Bowl. "One of the reasons I am here tonight," he said, "besides my mother and father, is a guy named Roger Taylor of Queen. When I was 10 years old, my older sister took me to go see Queen in concert -- the first concert I ever saw. And I watched the fucking drummer and I said, 'I wanna fuckin' be him. I wanna do that.' Well, my mentor is here tonight, Mr. Fuckin' Roger Taylor, and he's gonna do a Queen song with us. How about that?"
The Top 100 Albums of the '90s
More From KYBB-FM / B102.7