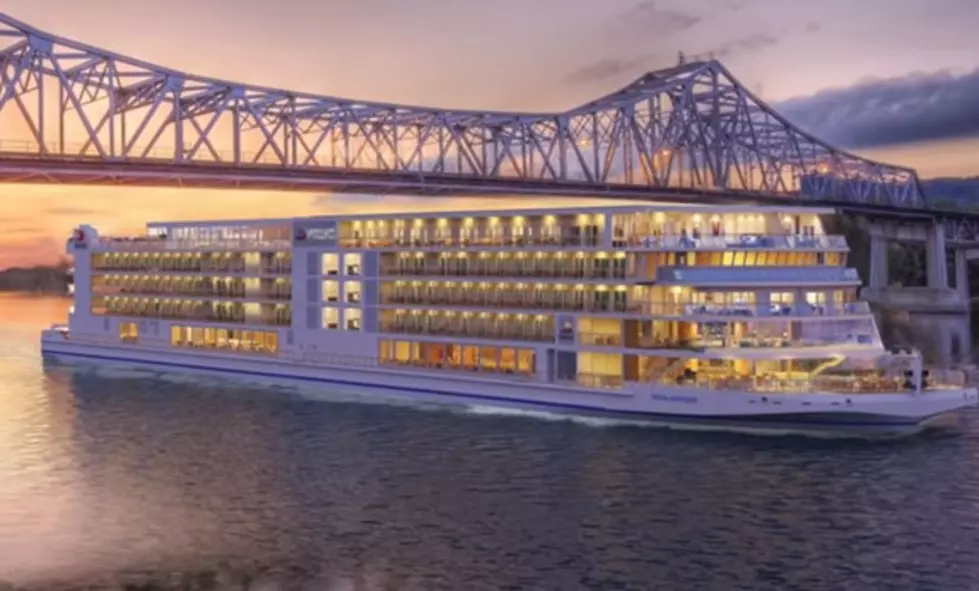 UPDATE: New Luxury Cruise Ship Docks in Iowa for First Time
Popular Cruising, YouTube
This week you can witness the debut of a brand new cruise ship here in Iowa, even if you can't afford to hop onboard.
[UPDATE]: The Viking Mississippi cruise ship set sail on its maiden voyage starting in St. Paul, Minnesota Saturday, September 3. marking its first-ever stop in Iowa Tuesday, September 6, in Dubuque.  According to KWWL, below is the scene from the American Trust Rivers Edge Plaza in the Port of Dubuque held on Tuesday at 11 a.m.
Second stop: Davenport
According to KWQC
the public is invited to welcome the first Viking passengers to the Quad Cities at an opening ceremony and ribbon-cutting at noon before passengers disembark on the red carpet to board the buses for their shore excursions.
A post on the "Quad Cities" Facebook page describes the itinerary for guests and passengers when it stops there.

On to Burlington
Finally, on Thursday, September 8, Burlington will get its first sight of this mini-paradise.
The Viking Mississippi is a five-deck, 193-room cruise ship that, according to the Hawk Eye, had initially been expected to arrive in Iowa in mid-July. The ever-present "supply chain issues" of the last year or more pushed back the ship's completion and delayed its quest upriver from Louisiana. According to Hawk Eye:
Burlington is among 14 cities in which the ship will dock along its 2,350-mile America's Great River cruise from New Orleans to St. Paul, Minnesota, and among seven stops along its 2,340-mile America's Heartland cruise from St. Paul to St. Louis.
Cruising on the ship will cost you a pretty penny, let's just be honest (from $3,000-$12,000 for 8-15 days). But even so, it might be worth visiting the various docking stops just to be a spectator to history. It's also set to be a boon for the economies and tourism industries in each of these locations because guests will be offered choices of multiple different "excursions" around community attractions.
Here's more about booking a reservation on the Viking Mississippi, which you can do in spurts or for the whole length of the river.
You Have to See This Quaint Spanish Inspired Iowa Airbnb".
Here is All The House You Get for $1 Million Dollar in Cedar Rapids vs. Los Angeles
Got an extra mil? Don't move to Los Angeles, you can get waaay more house in Eastern Iowa! Yes, pool included.
More From KYBB-FM / B102.7