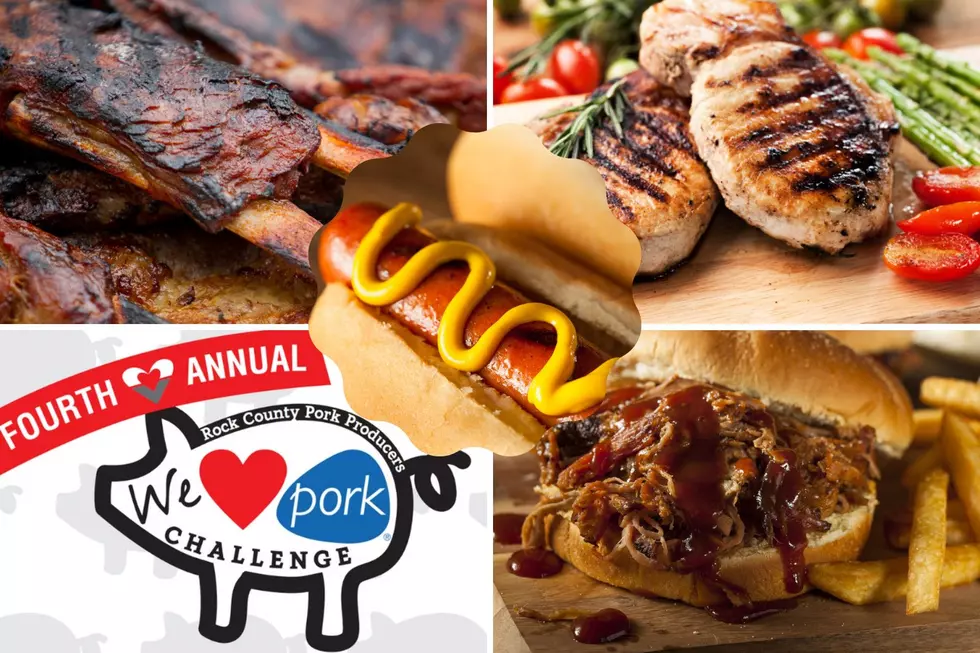 Pig Out at Five Luverne Restaurants in February and March
Getty Images/Thinkstock/Dakota News Now (with permission)
Roadtrip! If you're a pork lover, it's time to hop in the car and head east to pig out!
The Luverne, Minnesota "We Love Pork Challenge" is about to begin again.
For the 4th consecutive year, five different restaurants will battle it out to determine who has the best-tasting "other white meat" in the city of Luverne.
As Dakota News Now reports, the event is once again sponsored by the Rock County Pork Producers.
This battle royale is set to begin Monday, February 13, and will run through Friday, March 17th.
Restaurants like Bogey's Bar & Grill inside the Luverne Country Club, Green Lantern Bar & Grill, Hidden Hills Café & Hideaway Tavern, Howling Dog Saloon, and Sterling's Café & Grille are inviting residents from all over the Sioux Empire and surrounding area over to the city of Luverne to pig out!
Anyone who orders a pork-themed meal from any of the five participating restaurants throughout the contest has the opportunity to rate what they ate.
According to Dakota News Now, pork challenge participants will assign up to five points in each of the five categories for every featured pork meal they try.
Upon the conclusion of the challenge, the pork meal that has racked up the most points will be declared the winner.
Participants will rate the meals they ate using these five categories: Meat, presentation, toppings, flavor, and customer service.
In addition, every participant has a chance to win one of (50) $10.00 gift certificates that will be given away by the five different restaurants that are battling it out.
A traveling trophy will be presented to the restaurant with the highest score during a special event on March 27th that is set to honor the completion of the "We Love Pork Challenge."
Source: Dakota News Now
Dives Worth a Drive in South Dakota, Iowa and Minnesota
Almost every small town has a watering hole. It's where the locals go to kick back a few brews and engage in conversation. Some of these establishments are located in buildings almost as old as the town itself. There might be a fresh coat of paint on the walls or new vinyl on the booth seats, but the ambiance is still reminiscent of a good ol' dive.
If you think a dive bar is all about sketchy clientele and the smell of the Devil's lettuce and stale Grain Belt, you'd be wrong. Not every dive bar has a bad reputation.
Let's determine what makes a bar a dive bar.
A dive bar has character. Neon beer signs and local memorabilia adorn the walls.
There are usually only a few televisions.
You might even find a pool table, dart board, and a few video lottery machines.
The bartender knows everyone and all of the town's gossip and they know what you drink.
Dive bars are known for their inexpensive heavy pours and happy hours.
Many dive bars don't even serve food, except for the perpetual pickled eggs and maybe a pepperoni Tombstone.
Dive bars aren't fancy. You might see 70's-style wood panel on the walls and wobbly tables leveled with a folded napkin.
And, finally, the bathrooms. The bathrooms in dive bars are in a class by themselves and could be a whole topic on its own.
There are several small-town dives in our area with friendly faces, cheap booze with a burn, and even really good food! We use the term "dive bar" in the most affectionate way. Here are some of our favorites.
Road Trip-Worthy Restaurants Within 90 Minutes of Sioux Falls
Veer off the beaten path. Take a road trip and try some favorite small-town eateries. Just by driving a few miles, you could find some delicious hidden gems.
From steaks to seafood, chislic to chicken, these are out-of-the-way unexpected finds that will make your taste buds tingle.
Here's a list of 14 Road Trip-Worthy Restaurants within 90 minutes of Sioux Falls.
More From KYBB-FM / B102.7