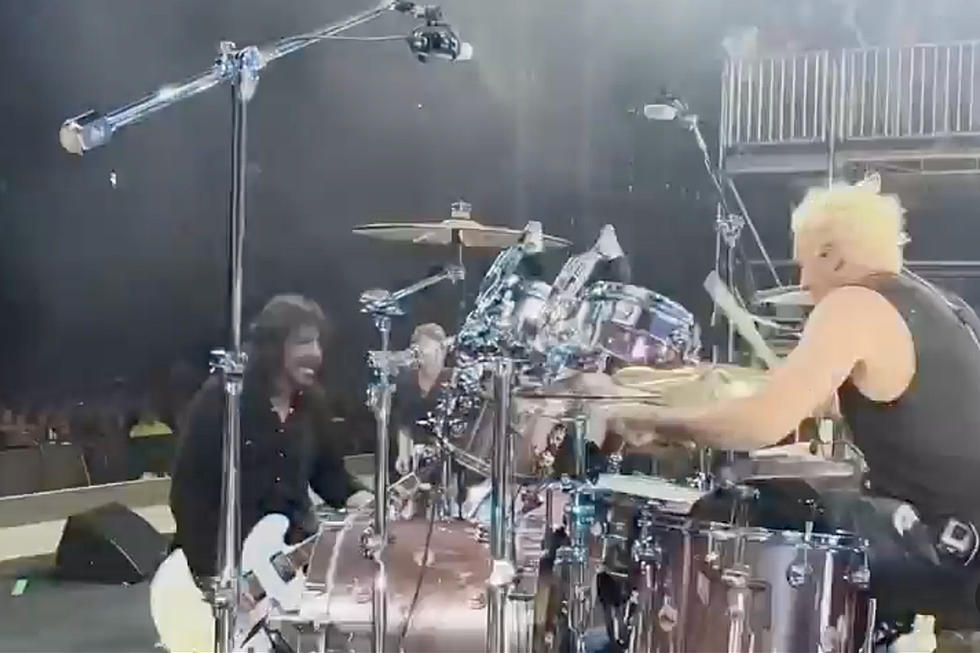 Foo Fighters' Josh Freese Explains What It's Like Playing Behind One of 'World's Greatest Drummers'
Instagram: @joshfreese / @rizz_is_high
Josh Freese has made his presence felt behind the drum kit for Foo Fighters since taking over the void left by the death of Taylor Hawkins last year. Now well into touring with the band, the veteran musician shared a little bit of what's been like stepping into the role as the Foo Fighters touring drummer and knowing that he has to do it playing behind Dave Grohl, who more than earned a name for himself as one of rock's top drummers while playing with Nirvana.
Freese was already a highly respected drummer within the rock world before landing the gig, having performed live with Nine Inch Nails, Weezer, Sublime With Rome, The Offspring, Danny Elfman, Sting and plenty more.
But even with a resume such as his, the drummer admits that there's a special reverence held for Dave Grohl in stepping into the job. And he shared a bit of what it's been like in a social media post in which he decided to throw in an impromptu nod to his new bandmate.
Freese posted video of Grohl vibing off one of his drum features within the band's performance of "Breakout" from an early show within their tour. He recalls, "Middle section of 'Breakout' on my 3rd @foofighters show about a month ago Columbus, Ohio. Out of nowhere, I decided to reference the NIN song 'You Know What You Are' that I used to play every night on tour, but Dave recorded it on the record. I love when he hears it and lights up. At the end, you can see me making sure he caught it. Yes, he caught it. Duh."
The drummer went on to add, "BTW, playing drums behind one of the worlds greatest drummers is a TOTAL trip. Surprisingly not nerve wracking but really just inspiring and fun. And that's the truth Ruth."
Indeed there is a shared history between Freese and Grohl where Nine Inch Nails are concerned. Grohl, as Freese stated, played the live drums on "You Know What You Are," which is the second track on Nine Inch Nails' 2005 album With Teeth. Though Freese was not part of that album, he took over behind the kit for Jerome Dillon when the band hit the road to support the record. He remained part of Trent Reznor's Nine Inch Nails lineup into 2008, appearing on the band's Year Zero and The Slip albums as well as the Beside You in Time and Another Version of the Truth live releases.
READ MORE: Foo Fighters Play First Full Concert With Josh Freese - Setlist + Video
Nine Inch Nails, "You Know What You Are?" (with Dave Grohl on drums)
Nine Inch Nails, "You Know What You Are?" (Live in 2005 With Josh Freese on drums)
Foo Fighters have been throwing in some Nine Inch Nails nods beyond the "You Know What You Are?" drum bit. During their Sonic Temple performance in late May, "March of the Pigs" was added as part of a covers medley and was subsequently performed as part of a covers medley at several other appearances over the past month.
Foo Fighters are currently on the road in support of their But Here We Are album. Dates are currently booked all the way through June of 2024. Catch them in Quebec City, Montreal and Ottawa in Canada over this next week.
66 Best Hard Rock + Metal Drummers of All-Time
More From KYBB-FM / B102.7