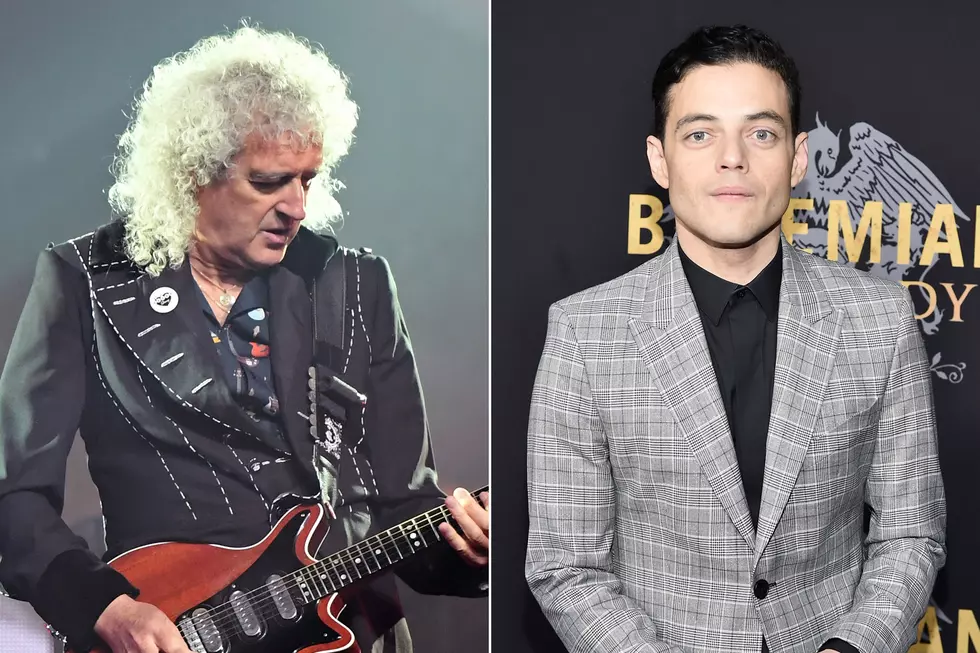 Brian May Rips 'Bohemian Rhapsody' Timeline Critics: 'Complete Bulls––'
Ethan Miller / Steven Ferdman, Getty Images
Brian May says ending Bohemian Rhapsody with a re-creation of Queen's triumphant 1985 performance at Live Aid was always the plan, despite an early report suggesting that an alternative ending was in the works.
"I think there's a natural culmination there," the guitarist told Louder Sound. "And that has pretty much always been the case, from the earliest scripts. We felt that was the pinnacle – despite what some people have said in the press, who know fuck-all about it. Somebody who shall be nameless said, "'Oh, they're going to portray Freddie [Mercury] dying in the middle of the movie, and then the rest of it is gonna be about life without Freddie.' Well, complete bullshit. This is all about Freddie, and I think Live Aid is a good point to leave it. Who knows?" May added, laughing. "There might be a sequel."
The nameless person could be Sacha Baron Cohen, who was originally linked with the starring role but walked away in 2013. Two years ago, he told Howard Stern that the idea for the film, as described to him by a member of the band, was that Mercury's 1991 death took place midway through the movie, and then "you see how the band carries on from strength-to-strength. I said, 'Listen, not one person is going to see a movie where the lead character dies from AIDS and then you see the band carry on.'"
Although May didn't finger Cohen as the source, in the same interview, he said the decision to work with the Borat star "was a near-disaster. I think we realized just in time what a disaster that was going to be. And it actually wasn't rocket science to figure that out. But yeah, that's one of the rocks that we nearly hit."
 
 
See Queen Among Rock's Most Underrated Albums
You Think You Know Queen?
More From KYBB-FM / B102.7