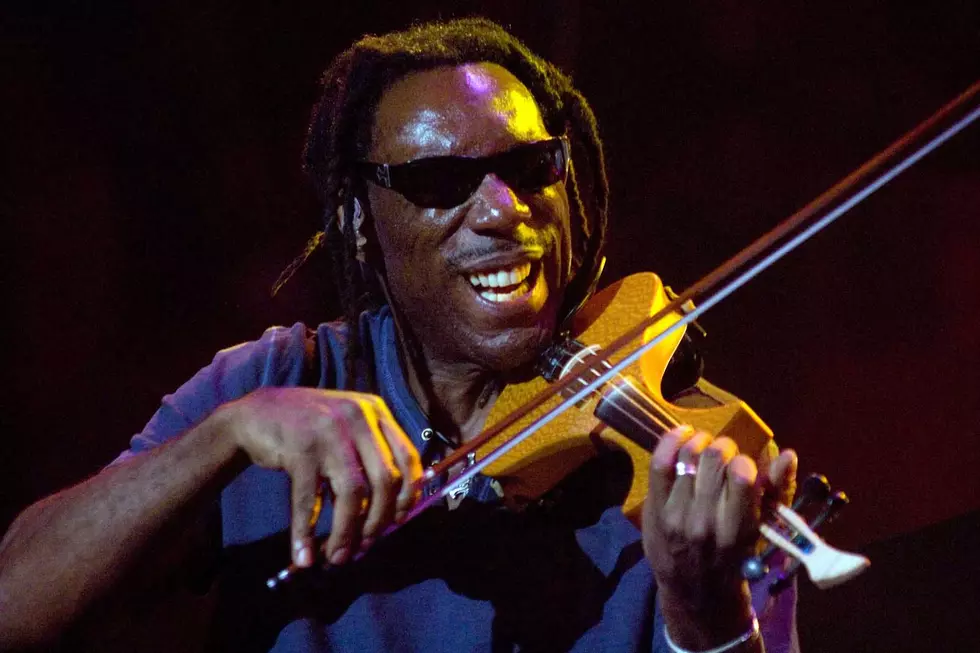 Dave Matthews Band Violinist Boyd Tinsley Sued for Sexual Misconduct
Rob Loud, Getty Images
A lawsuit against Boyd Tinsley, the violinist who is currently taking some time away from the Dave Matthews Band, has been filed in a Washington state court by a fellow musician. James Frost-Winn alleges that Tinsley repeatedly sent him sexually explicit texts and masturbated next to Frost-Winn while he slept.
Frost-Winn – a trumpet player who was in Crystal Garden, a band assembled and produced by Tinsley – is seeking $9 million in damages. He first issued a demand letter in an attempt to settle his claims against Tinsley on Feb. 2, the same day Tinsley announced a break from the Dave Matthews Band.
"I know I'm not the first person, but I hope to be the last," Frost-Winn told Consequence of Sound, who broke the story. "The only reason I'm going public is because [my lawyers and I] feel like these are very serious matters, and we want justice. I want to make sure this doesn't happen to anyone else.
Tinsley announced in February that he needed to "take a break from the band & touring 2 focus on my family & my health 4 a while. ... I'm somewhat worn out & need 2 spend more time with my family & 2 bring more balance to my life."
Frost-Winn first met Tinsley in 2007, when the then-18-year-old trumpet player was a homeless busker in San Francisco. They became friends and would hang out when Tinsley would pass through town, and it escalated to the point where Tinsley was flying him out to concerts. Then Tinsley asked him to be involved in Crystal Garden. This necessitated a move to Seattle, with Tinsley picking up all the costs.
During a late-night recording session at Tinsley's home studio, Frost-Winn went for a nap on a couch. As he slept, he alleged that Tinsley "touched his legs, rubbed his back, and put his feet on his buttocks." When he woke up, Frost-Winn claimed, "he was masturbating next to me while I was sleeping, and he had his hand on my ass. He was climaxing." Frost-Winn ran for safety, and Tinsley blamed it on a "pill mix-up."
The trumpet player also shared alleged screenshots of text exchanges with Tinsley where he told him how attractive he was and asked him to send him pictures. Frost-Winn, who said he wasn't the only member of Crystal Garden that was on the receiving end of the advances, left the band in August 2016.
"In retrospect, he was absolutely grooming me," Frost-Winn said. "I considered him like a brother, my family, especially after my mother passed — he was one of the positive role models in my life. I invested a lot into a relationship that was ultimately very bad for me. I first met him being homeless and 18 and new to experiencing the world. I felt very betrayed at the end of this."
Tinsley, who has a wife and children and has never come out as gay or bisexual, did not respond to Consequence of Sound's requests for a comment but the band, through a representative, issued the following statement: "Boyd has been a member of the family since the band began and we want him to focus on his health and get better. We support his decision to do this and we're sending positive thoughts his way."
Earlier this week, Matthews addressed Tinsley's departure but did not comment on the reason.  "I can't say 'I can't wait till he comes back,' because I don't know what's going to happen," he said. "But right now being away is better for him. Nobody is happy about this situation. Except that we're happy he can figure some stuff out."
More From KYBB-FM / B102.7