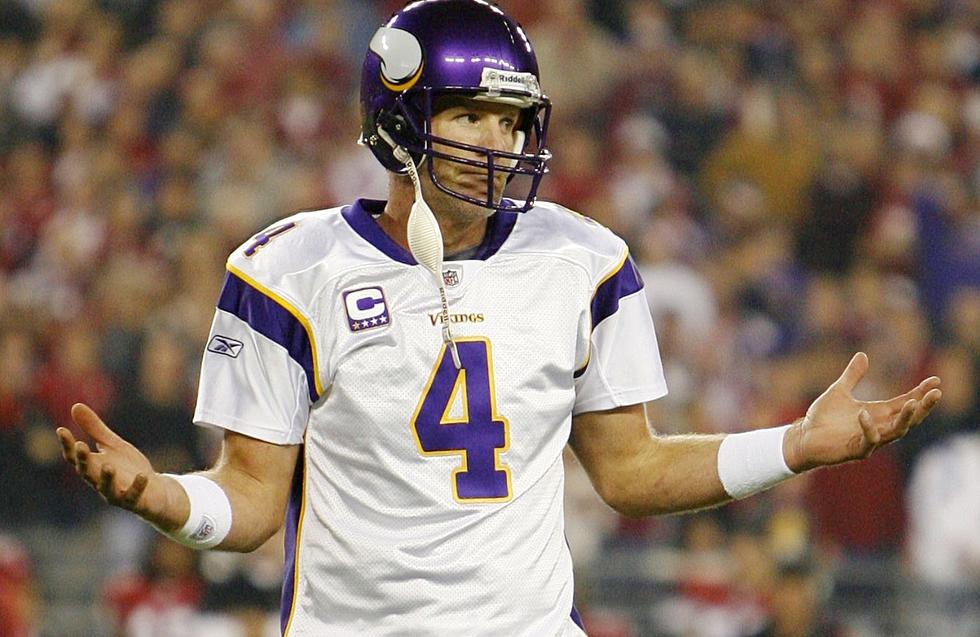 Any Other Vikings Fan Getting Mega Deja-Vu Vibes From One QB?
Photo by Christian Petersen/Getty Images
Please tell me I am not the only Minnesota Vikings fan getting mega deja-vu vibes right now with the drama that is currently surrounding our biggest rivals, the Green Bay Packers. More specifically, the drama surrounding their quarterback, our arch nemesis, Aaron Rodgers.
I know I can't be alone in thinking, this is has so many similarities to Brett Favre it's almost scary. There are a few differences but still too many similarities to not be a little curious and possibly a little worried. I remember vividly, being in the Milwaukee, Wisconsin airport with a couple of good girlfriends when the big talk around football was where would Favre end up? Was sitting waiting to pick up a friend who had flew in to that airport, when a reporter approached me asking my thoughts on if Favre would go to the Jets or the Bucs. To which I replied;
He will definitely be going to the Jets and within a year, mark my words, he will be wearing purple and gold as a Minnesota Viking.
By the next year, indeed, Brett Favre became our quarterback for the Minnesota Vikings. We actually welcomed him with open arms! Fast forward nearly fifteen years later, who would have thought I'd be getting such deja-vu vibes.
Right after the NFL season ended and the Kansas City Chiefs were crowned the Super Bowl Champs. The narrative quickly went to, will Aaron Rodgers remain a Packer? Quite honestly Minnesota Vikings are just as invested in this, hoping he ends up with a team we don't need to concern ourselves with much at all if ever until he retires.
But did anyone off the bat, think, bet he ends up with the New York Jets, just like his predecessor Brett Favre did? I most certainly did not think that's where the discussion would end up, but here we are and that's exactly where it's being talked about Rodgers could be. With that said, all I can say as a Vikings fan, I don't want a repeat this time.
Yes, Aaron Rodgers is arguably one of the best quarterbacks of all times, I can't take that away from him. What I don't want however, is a repeat of 2009. I do not want the Minnesota Vikings to, one year later, steal the Jets QB away again, if that is where Rodgers decides to go and not retire (which is also a possibility). Not sure I can pinpoint exactly why I wouldn't want Rodgers to end up a Minnesota Viking, but some of it might have to do with me thinking he was a little too much of a diva and crybaby of a QB through the years that I just don't want our biggest rival of all times to end up playing for us.
By the way that isn't even a discussion I have heard, it's just the feelings one gets when you hear that Rodgers is once again following in Favre's footsteps and it all feels a little eerie and weird. Or maybe it's just because I have the Vikings blues after we let go Adam Thielen, Eric Kendricks and Cam Dantzler recently and lost Legend Former Head Coach Bud Grant at 95 over the weekend. It's a woe is me as a Vikings fan kind of day. Thanks for listening.
LOOK: These Are the Richest NFL players
To uncover the richest NFL players,
Stacker
consulted
Celebrity Net Worth
and ranked them by their 2022 net worth, calculated using a proprietary formula.
Top 20 Minnesota Breweries From All Over the State
Top breweries in the Minnesota ranked according to Brewery Stars with representation from all over the state
TACKLE THESE: Check Out the Best Uniforms In Each NFL Team's History
LOOK: 50 images of winning moments from sports history
Sometimes images are the best way to honor the figures we've lost. When tragedy swiftly reminds us that sports are far from the most consequential thing in life, we can still look back on an athlete's winning moment that felt larger than life, remaining grateful for their sacrifice on the court and bringing joy to millions.
Read on to explore the full collection of 50 images Stacker compiled showcasing various iconic winning moments in sports history. Covering achievements from a multitude of sports, these images represent stunning personal achievements, team championships, and athletic perseverance.
More From KYBB-FM / B102.7