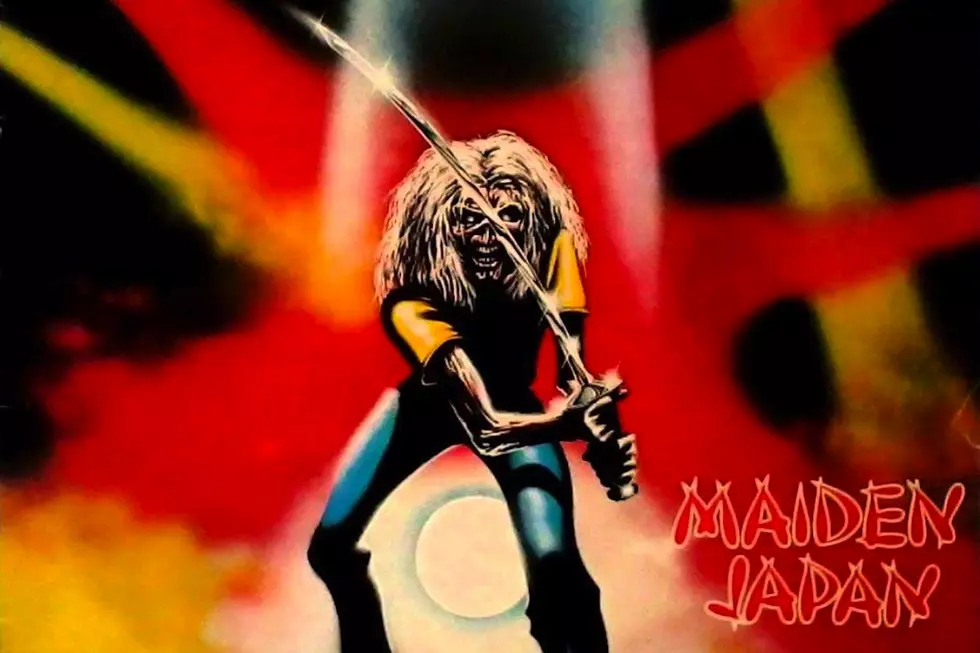 Why Iron Maiden's Live EP 'Maiden Japan' Mattered So Much
EMI
Iron Maiden released several 7" and 12" EPs Along with their full-length records throughout the '80s, most all of them packaged with the artwork of Derek Riggs and recounting the adventures of the band's horrifying but lovable mascot, Eddie.
None of those EPs was pressed in greater quantities and shipped to more countries than 1981's Maiden Japan, which regaled fans living in far-away territories with their first taste of the rising New Wave of British Heavy Metal stars in concert.
The EP also served as an unofficial farewell for singer Paul Di'Anno, who had left an indelible impression on Iron Maiden's eponymous debut, their sophomore Killers and many other non-album singles before being fired by the band on Sept. 10, 1981, and quickly replaced by Samson singer Bruce Dickinson.
Not even a week later, Maiden Japan began arriving in stores, boasting a selection of raw and explosive performances by the lineup that remains a favorite for many Maiden fans: Di'Anno on vocals, Steve Harris on bass, Dave Murray and Adrian Smith on guitars and Clive Burr on drums.
These performances were recorded during Iron Maiden's first trip to Japan, which consisted of four dates May 1981 (specifically, the songs were collected from their May 23 gig at Nagoya's Kosei Nenkin Hall).
As Harris recounted in 1982 to Night Rock News, the band's reception by Japanese fans was reminiscent of Beatlemania: "Everywhere we traveled, there were loads and loads of screaming girls. I mean, it was unbelievable, just screamin'! Guys, as well, would run right down the road and and start bangin' on the windows. … It was absolutely ridiculous! I didn't think that sort of thing went on anymore, [but] it's just the way they are: totally crazy!"
Among the songs chosen for the EP were the band's rebellious and anthemic early single "Running Free"; their first stab at a cryptic power ballad, "Remember Tomorrow"; the gruesome and unnerving "Killers," one of that album's most underrated cuts; "Innocent Exile"; and, in some countries, the bass-driven standard "Wrathchild."
All of the songs exposed fans to the young group's precocious command of the stage, as they whipped concertgoers into a frenzy with adrenaline-fueled renditions of songs (even more electrifying than the studio originals) that jumped off the grooves, powered by Iron Maiden's youthful excitement.
When combined with the shocking news of Di'Anno's ouster, it helped drive increased demand for Maiden Japan, which charted at No. 43 in the U.K. and No. 89 in the U.S. – both unusually high placements for an EP, especially by a heavy metal band in the early '80s.
And the slightly different track listings and alternate cover shots of Eddie wielding the head of a victim (rather than a katana sword, as seen in most pressings) shipped to some countries has generated a large collector's market for Maiden Japan over the years. (It should also be noted that Maiden Japan's title references Deep Purple's classic 1972 live album Made in Japan in recognition of the band's influence on Iron Maiden during their formative years.)
In every other way, Iron Maiden were looking forward as they confidently overcame whatever obstacles were put in their path on their way to metal glory, which was soon placed within their grasp by the massive leap forward undertaken by 1982's The Number of the Beast.
Top 50 Classic Heavy Metal Albums
We take a look at some of the heaviest, loudest and most awesome records ever made.
More From KYBB-FM / B102.7