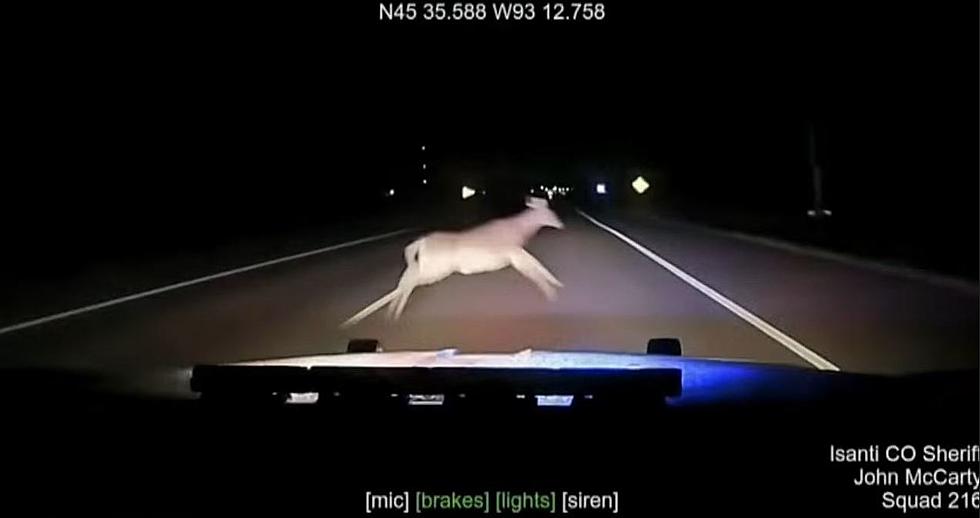 VIDEO: Minnesota Sheriff's Car Hits Deer At 114 mph
WCCO/YouTube
Hitting a deer with a passenger car is a scary thing when done at 'normal' highway speeds. I've hit two deer at less than 45 mph and it's not something I want to do again. Now imagine hitting a Bambi when your car is traveling at 114 mph!
That exact thing happened to Isanti County Sheriff Deputy, John McCarty in 2017 while he was responding to an emergency call. The bumper bar on the front end of the Dodge Charger offered some protection. But it was the hood of the Charger that opened up open and covered the windshield. That hood probably helped to block the deer from landing in the deputy's lap.
Deputy McCarty survived the ordeal but the deer wasn't so lucky. There is a good lesson here; when a deer or other animal jumps out in front of your vehicle, don't swerve! Trying to dodge the animal at highway speeds and in high-profile vehicles like SUVs can cause you to lose control and crash.
States in the upper Midwest have the best odds of hitting a deer. According to State Farm, your chances of hitting a deer in Minnesota is 1 in 58. In South Dakota 1 in 48 and in Iowa 1 in 59.
Be safe out there!
MOST RECKLESS DRIVERS' VEHICLES
We've all seen 'em.
That souped-up vehicle sitting next to you at the red light or blowing your doors off on the interstate.
When you lay eyes on one of those beauties, the thought runs through your mind - 'Man, I would get in SO much trouble behind the wheel of that bad boy'.
And you're probably right. But which vehicles on the road today are causing drivers to take the most risks?
More From KYBB-FM / B102.7