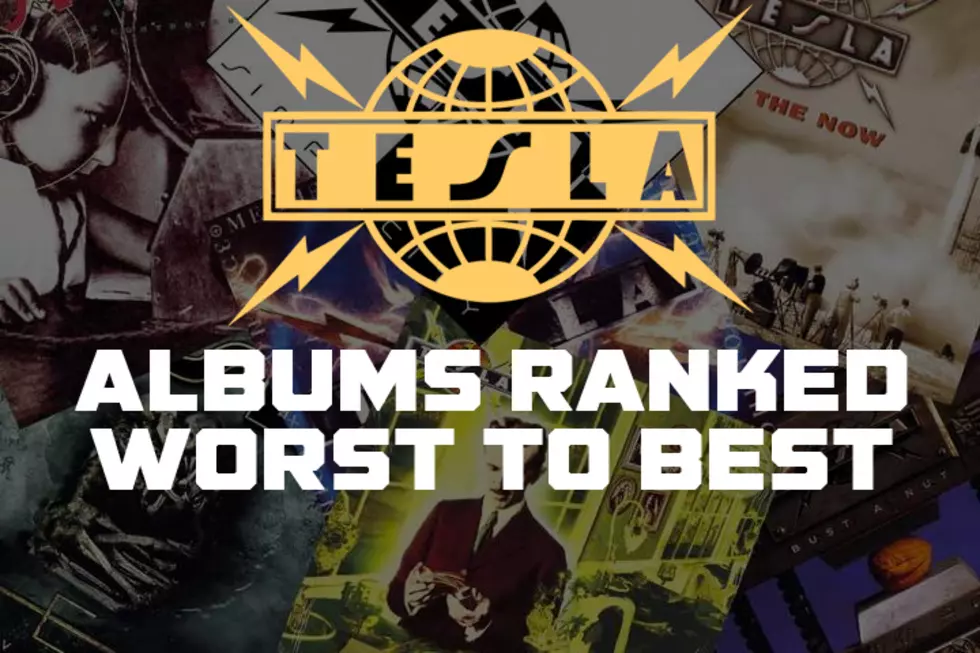 Tesla Albums Ranked Worst to Best
Tesla have always been saddled with the downsides that come with being tagged a hair- metal band. Their biggest hit was a power ballad ("Love Song"), and they toured with '80s groups like Poison. But they never dressed the role, for the most part eschewing spandex and ozone-depleting amounts of hairspray in favor of old jeans and devil-may-care mullets. Most importantly, songs by Tesla weren't about pies made with cherries or bops done with unskinny girls who were only 17.
The Sacramento five-piece liked to be considered in the vein of a traditional hard-rock band, taking their cues from Led Zeppelin, early-Aerosmith and the Rolling Stones, with an aim to make timeless music that was for the Everyman -- not singing about chicks, cars, partying and more partying. Nothing wrong with these trusted topics, they just weren't Tesla's style.
Singer Jeff Keith had the seemingly effortless ability to go low and high with his voice, while drummer Troy Luccketta and bassist Brian Wheat put together a solid bottom end. It all allowed Tommy Skeoch and Frank Hannon to march forward with a distinct twin-guitar attack, making for a thick and textured sound.
It's more than a bit ironic that Tesla took their name from misunderstood, overlooked and slighted inventor Nikola Tesla, whose contributions to technology were allegedly usurped by Thomas Edison and Guglielmo Marconi, leaving him as a mere footnote for more than 50 years since his 1943 death. That was just one more division between them and the rest of the pack. While, say, L.A. Guns had a woman in chaps straddling a six-shooter on the none-too-subtle Cocked and Loaded cover, Tesla was focusing on some obscure electrical engineer in their songs and album artwork.
Breaking through to the mainstream with a cover of the Five Man Electrical Band's 1971 hit "Signs," Tesla released the warts-and-all Five Man Acoustical Jam in 1990. That was before the MTV Unplugged series really took off, and remains one of the more memorable undertakings in the stripped-down setting.
Still, even this did little to diminish the hair-metal label, and when grunge got popular in the early '90s, Tesla were one of the casualties. It was unfortunate timing. Their great Psychotic Supper came out just two weeks before Nirvana's Nevermind in 1991. Undaunted, they released the underrated and boundary pushing Bust a Nut in 1994, before taking a lengthy hiatus while Skeoch tended to substance-abuse issues.
Following a reunion in 2000, Tesla toured extensively and made more records. But how do they stand up to the rest of the catalog? Check out the following list of Tesla Albums Ranked Worst to Best.
More From KYBB-FM / B102.7