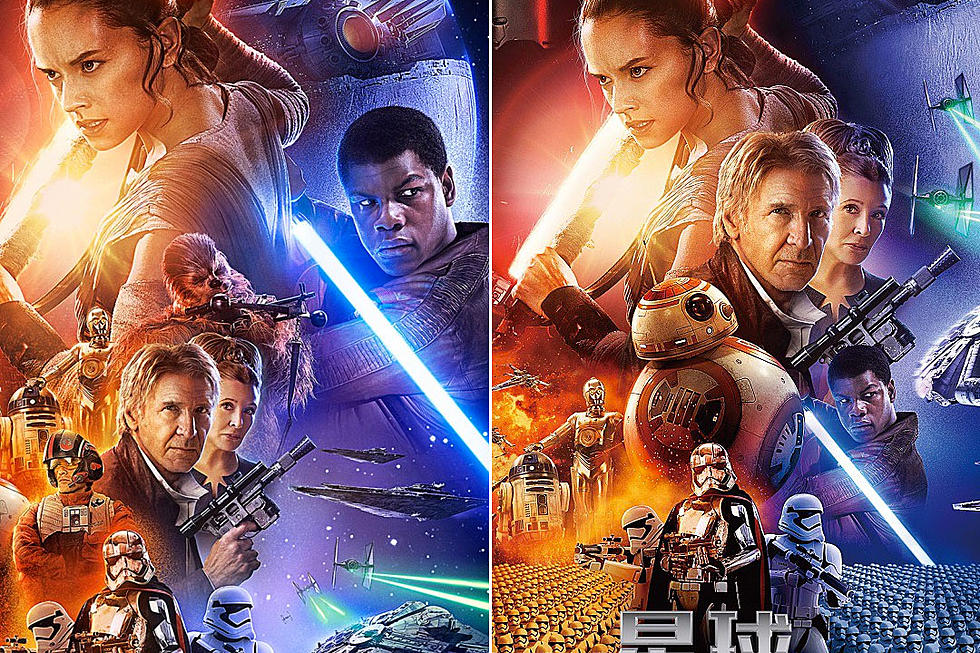 Chinese 'Star Wars' Poster Shrinks Black Lead Actor, John Boyega
Lucasfilm
Despite some early concerns, most would agree that Star Wars: The Force Awakens is a diverse film. The three leads are a woman, a black man and a Cuban man. One of the main enemies is a woman. One of the major new characters is played by a black woman. Princess Leia is now General Leia Organa. It's not perfect yet, but it's a very solid step in the right direction. Unfortunately, it may have been a little too far in the right direction for some countries. A new Star Wars: The Force Awakens poster from China has been revealed and, despite being one of the two main stars of the film, they've shrunk down black actor John Boyega in half.
While all the other characters on the poster have either stayed the same size (Kylo Ren, Rey) or actually increased in size (Han Solo, Leia, BB-8), Boyega's character Finn has been pushed down and his size reduced by over 50%. Take a look at this side-by-side comparison of the U.S. poster and the Chinese poster to see the changes:
Is it a coincidence? No, it turns out studios are very aware that movies with black actors don't perform as well overseas.
Not long ago, in documents revealed during the Sony Pictures e-mail hack, there were multiple exchanges between Sony executives and producers concerned about how The Equalizer, last year's thriller starring Denzel Washington, would perform internationally. One of the film's producers e-mailed Sony chairman Michael Lynton and said [emphasis ours], "I believe that the international motion picture audience is racist — in general pictures with an African American lead don't play well overseas. When Sony made Equalizer they had to know that Denzel opens pics domestically, however the international gross would be somewhat limited."
Back in 2010, the Wall Street Journal reported on the development of a romantic comedy starring African American actress Taraji P. Henson. "But that film ended up in 'turnaround,' the Hollywood term for when a studio abandons the rights to a project and allows others to acquire it. It was heavily targeted to an African-American audience, a factor that often means the film won't play well abroad."
It's a sad state of affairs that international box-office is driving the decision-making at Hollywood studios more now than ever. Which is not necessarily a bad thing sometimes (it's this money that has given new life to franchises like The Fast & Furious and Resident Evil), but when it forces racial decisions like diminishing a black, female or gay actor, it's definitely a bad thing. J.J. Abrams and Kathleen Kennedy have talked openly about wanting to make the Star Wars universe more diverse, and they're doing that part, but what message does that send? We think John Boyega is the best actor for this role and the character of Finn was cast without thought to race, but it's OK to downplay his role in the film?
And, it's not just marketing issues. Because of censorship in China, some studios even make wholesale changes to the film to appease the government and allow their films to screen. Star Wars: The Force Awakens was only approved for a Chinese release (on January 9) earlier this week.
Hopefully as the culture continues to change in Hollywood, audiences around the world will be more comfortable with actors of all different colors being stars, heroes, romantic interests and villains.
More From KYBB-FM / B102.7