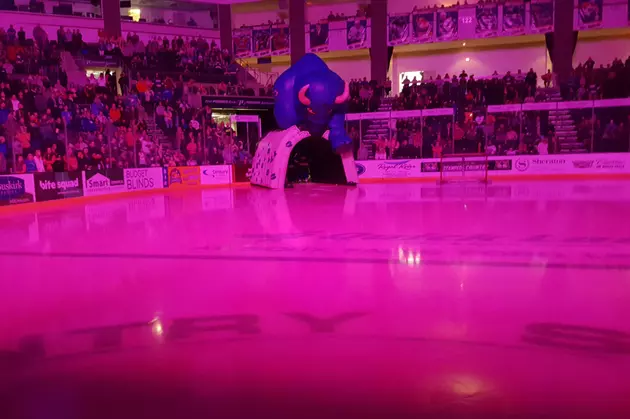 Sioux Falls Stampede 'Pink the Rink' Honors Breast Cancer Survivors
Crystal Erickson
Saturday night was the annual "Pink in the Rink" night at the Sioux Falls Stampede game against the Fargo Force. As the name suggests, the ice is colored pink in honor of women who have battled or are battling breast cancer.
The event is a fund raiser for the American Cancer Society of South Dakota which donates money to help women directly and funds research.
My wife was one of the ladies honored before the game and got to walk (on a rug) on the ice. They were all presented with a Stampede 20th anniversary puck and a rose, and had their names up on the scoreboard over the center of the ice.
It also happened to be my first Stampede game. I know, I'm not sure how in twenty years I didn't accidentally attend a game but I never did. I've never been a hockey fan, understand the game only from the fundamental level of "puck in goal equals point." But I have to say I really enjoyed it. I figured out, with the help of Google, what offsides and icing were. I found it to be much like NASCAR in that I could find myself getting lost in the action if I watched one player, much like I would often watch one car at a race.
Overall it was pretty rad and I am looking forward to my next Stampede game.
Oh, and the Stampede got screwed and it should have gone to overtime.
Pink in the Rink
---
More From KYBB-FM / B102.7