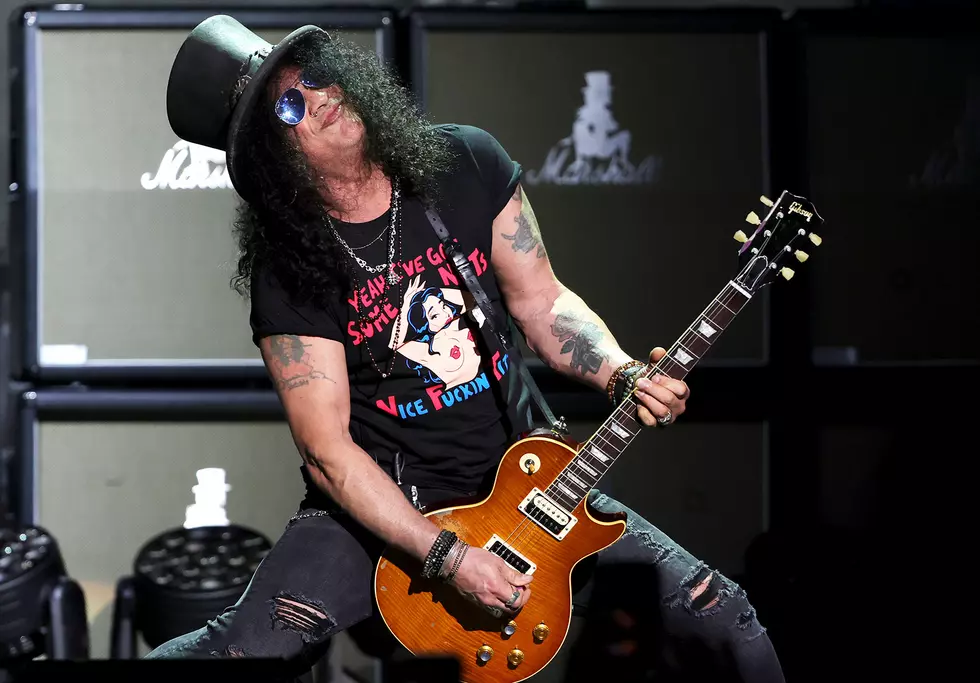 Guns N' Roses Were Toppled by 'Delusions of Grandeur' Says Slash
Ethan Miller, Getty Images
Slash said Guns N' Roses' first stint was toppled by people suffering "delusions of grandeur" – but it wasn't the members themselves.
The guitarist argued that interpersonal issues brought on the classic lineup's collapse in the '90s, and then the same thing had happened to Velvet Revolver in the following decade.
"Guns N' Roses was obviously my entire life and that's where I come from," Slash told Guitar in a recent interview. "I'll always be part of it and I don't mind being recognized as 'that guy from that band.' At this point, I'll probably do it till I'm pushing daisies."
He added that "it's always been a lot of fun but it became a really big band, so the tension [became] palpable. Like with Velvet Revolver: Everybody around that band had all these delusions of grandeur. Not the band itself, the people around it. It was very difficult, so it didn't stand a chance long-term."
While Slash reunited with Axl Rose and Duff McKagan for a new Guns era in 2016, he's continued his solo career with the recent release of the album 4. He's now been working with singer Myles Kennedy and backing band the Conspirators for nearly as long as his first run with GNR. The guitarist said the reason for their longevity was that they "don't take it too seriously. It just sort of does what it does for the fun of it. I don't think we've had any real expectations and we're not trying to be huge or do anything. … Nobody really thinks about all the other bullshit."
Guns N' Roses Lineup Changes: A Complete Guide (We Think)
Few bands have impacted rock 'n' roll the way they have, and even fewer have weathered as many changes.
More From KYBB-FM / B102.7