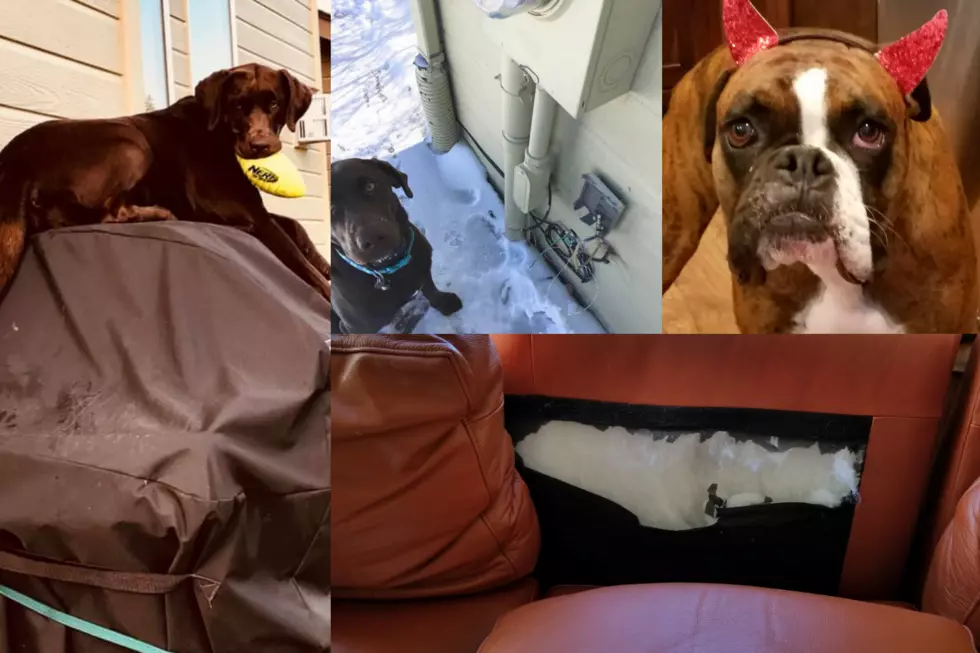 Sioux Falls Dog Causes $20K in Damages and Other Catastrophes
Sioux Falls Puppies Facebook
The last night of the 2019 Westminster Kennel Club Dog Show takes place Tuesday night (February 12). They have some amazing dogs on that show.
But of course, we all know not all dogs are so well behaved as those fellas. So we asked the question about the destructive nature of pets around Sioux Falls. Here are some great stories that some very compassionate pet owners shared with us on Facebook.
Toni Anderson: "My Spunk was a destroyer! She has eaten and chewed our walls, window frames, carpet and a whole love seat! We estimate around $20,000 worth if work to do to the house to fix."
Lisa Stephens: "I'd have to say one of the worst was when our dog Issac took my asthma inhaler, and we heard a pop and a hiss from the other room, and there he sat with the inhaler in front of him, proud as could be."
Michele Sayre: "I checked out a dog training book from the library. Instead of returning it...yes you guessed it right I had to buy it as my 3 pound pup Clooney thought it was a chew toy!"
Bobbie Kunzman: "For Hire: Winston the Wreaker. No job to big. No job to small."
Donna Taylor: "Dog- a stage of chewing Sheetrock. Cat- spill liquid purple potpourri then proceeded to run back and forth trough it in the living room. Cream colored carpet with 1000 purple paw prints yup."
Sherrie Lovejoy Petersen: "Two dogs, 2 "tales": dog #1 at the decorative edge off of my baseboard. I thought it was dirty and looked closer to find nibble marks.
Dog #2 was not happy that we did a remodeling project without his permission. When it was done he ran in to our living room, looked me straight in the eyes and lifted his leg on my brand new carpet. Ug!"
Wendy Cope Metzger: "Our dog ate an entire plate of Alfredo pasta that my daughter dropped which resulted in explosive diarrhea. EX. PLO. SIVE."
Krystine Vollan-Reavis: "When my dog was a puppy, he jumped up on the kitchen counter and then the top of the fridge to eat half a pan of brownies. He then jumped down and ate half a wiffle ball. My mom punished him by locking him in the bedroom where he preceeded to chew a hole in the carpet down to the floorboards about 12 inches squared. He was a small dog too. A terrier that was just under 5 pounds!"
Kendra Franklin Karbowski: "Chelsea our Chocolate Moose ate the internet off of our house! Oh Cable Guy!"
Chris Mager Wevik: "The most destructive thing? Our Husky chewed up our landscaping lights (5 times), ripped up the seat on our riding mower, ripped up the seat on our go-cart, chewed up the fender on my son's new car, tore up our patio cushions, chewed the hoses on our crop sprayer, and chewed the bumper steps on my husband's new pickup. But she was the most affectionate, playful, beautiful dog we ever owned."
It amazes me that our pets could do all of these things and we just carry on. If I did any of these things I'd be kicked to the curb...and fast.
Oh, and one last thing, our Digital Managing Editor (a fancy title for the guy who runs our websites) shared this picture of how his 125 lb Anatholian Shepherd reacts to being left along too long...