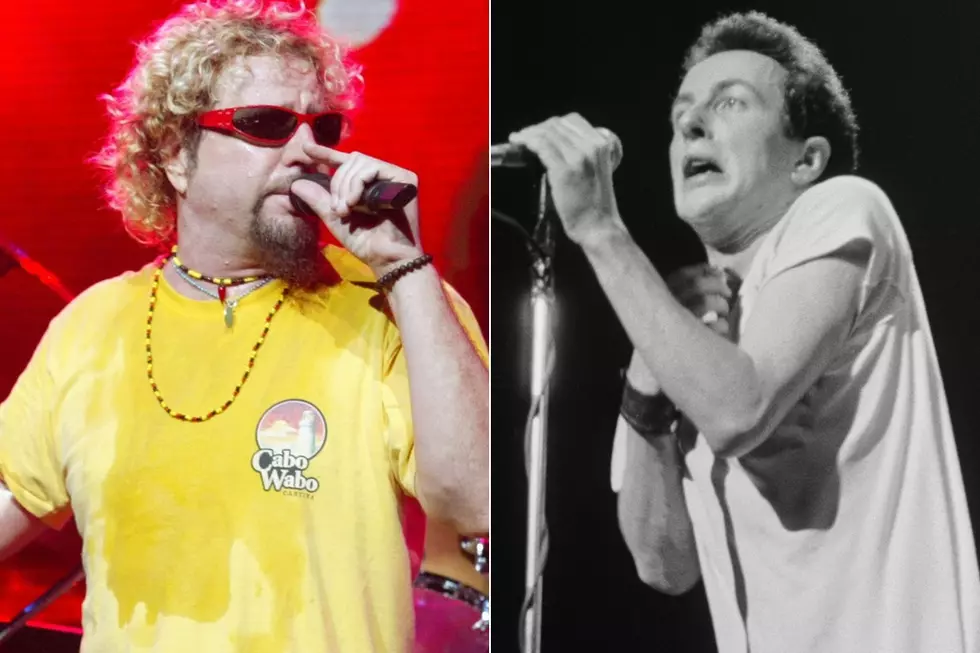 How Sammy Hagar Inspired the Clash's 'Safe European Home'
Kevin Winter / Chris Moorhouse, Getty Images
Sammy Hagar is a California guy whose music generally exemplifies good-time rock 'n' roll, and the Clash made a name for themselves with raw, eclectic recordings often informed by weightier topics. You wouldn't necessarily think the two acts shared a lot of creative DNA, in other words, but as it turns out, one of the Clash's earliest songs was heavily inspired by a Hagar hit.
Dangerous Minds reminds us that in his book In the Fascist Bathroom: Punk in Pop Music, 1977-1992, rock writer Greil Marcus recalled hearing the Clash's Give 'Em Enough Rope LP as a work in progress — and shared his disdain for what he viewed as the sanitizing influence of producer Sandy Pearlman, who edited out the main riff at the center of their song "Safe European Home."
Pearlman didn't deduct the riff for no reason. As Marcus noted, the band had been recording in the Bay Area at a time when the live version of Hagar's "I've Done Everything for You" was all over the radio; after marinating in the song for weeks, guitarist Mick Jones was moved to repurpose it for his own devices. "Pearlman erased the riff from the final master, fearing it would sound like a cheap cop," wrote Marcus, "and thus erased the voice of the tune."
While its regional hit status had an impact on the recording of Give 'Em Enough Rope, Hagar's version of the song failed to gain much traction outside the Bay Area. It wasn't until 1981 that a mainstream audience would hear that distinctive riff — courtesy of Rick Springfield, who scored a hit single with the cover he recorded for his Working Class Dog LP. Check out Hagar's live recording side by side with the Clash's "Safe European Home" below.
Update - Hagar has responded to this article via Twitter: "No wonder when I got on an elevator (with) Joe Strummer in 82 he wouldn't look at me ha! Great band & song- I'd never sue!"
The Clash Albums Ranked Worst to Best
More From KYBB-FM / B102.7