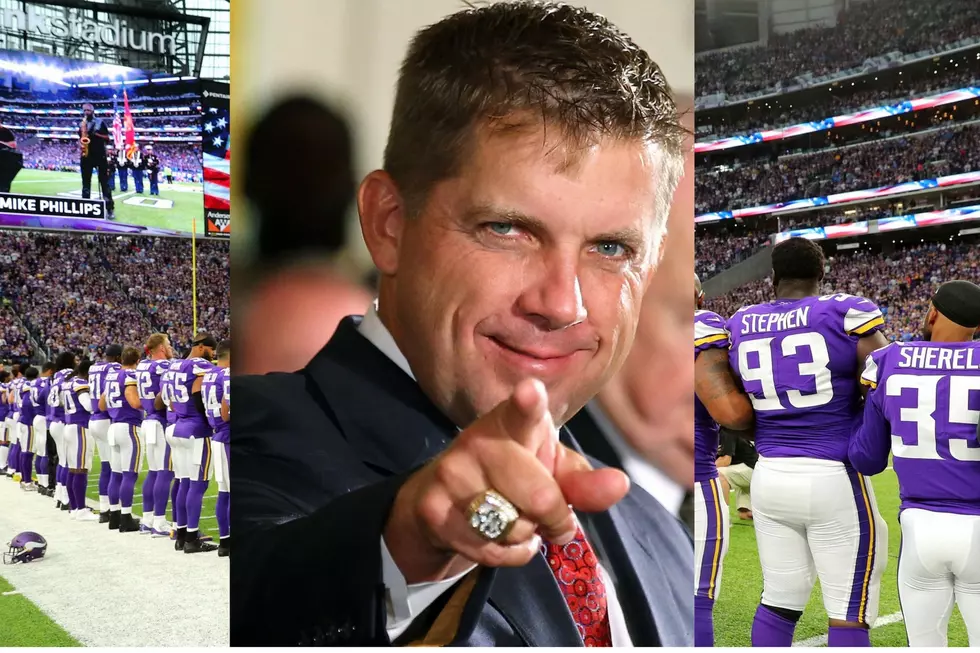 Saints Coach Payton Caught Mocking Vikings Fans
Getty Images
Payton tried to cover up a system where cash 'bounties' were being paid to players who would injure specific players from opposing teams.
Sports Illustrated reported that the NFL revealed that the prize for knocking Favre out of the 2010 Vikings vs. Saints NFC Championship game was an astounding $35,000.
Today the Daily Norseman published pics of Coach Payton mocking Vikings fans after the Saints made a go-ahead field goal in the fourth quarter of Sunday's Vikings vs. Saints playoff game.
After the field goal Sean Payton, with a total lack of class, turned to the Vikings supporters behind the Saints bench and started in doing the 'SKOL Clap' to mock Vikings fans.
As we all know Karma showed up to bite Payton and the Saints in the ass. The Minnesota Vikings beat the Saints 29 - 24 with a last-second touchdown dubbed the 'Minnesota Miracle'.
You may feel that this is no big deal, but how one conducts themselves in victory and defeat says a lot about one's character.
You would never see behavior like this out of a class act like Vikings Coach Mike Zimmer.
---
More From KYBB-FM / B102.7