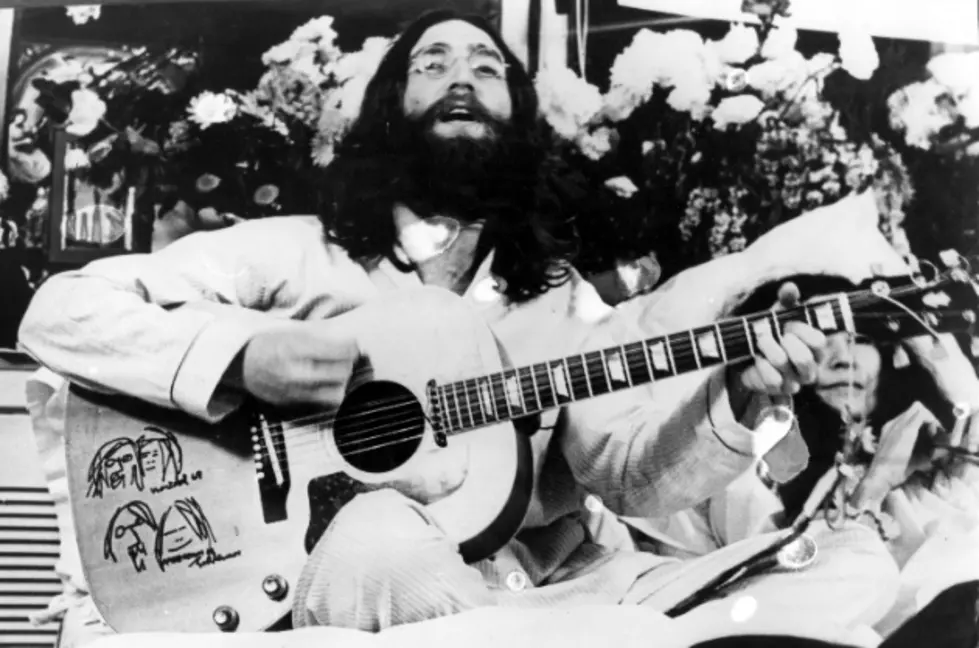 John Lennon 'Letters' Book Out Now
Hulton Archive, Getty Images
Out today (October 8th) is the Yoko Ono sanctioned book, The John Lennon Letters. Tomorrow (October 9th) marks what would've been Lennon's 72nd birthday. The John Lennon Letters was edited by noted Beatles author Hunter Davies and features letters sent by the late Beatle to lovers, friends, family, and fans from every point in his life, and culled from a collection over nearly 300 letters and postcards. Highlights include Lennon's rants to and against the press, Yoko bashers, producer George Martin, and Paul and Linda McCartney.
Lennon's widow, Yoko Ono, told us that -- both then and now -- trying to pin down what John Lennon meant to the world is impossible: "John was an artist and musician -- and a poet, as well. And also, he was a songwriter, singer, rocker. So, he was a very complex character."
It's been a common belief that Lennon was out of touch with his extended Liverpool family during his later New York years, and that many of his relatives were unable to ever make contact with him. Lennon author Phillip Norman was asked if Lennon was really that isolated from his family: "No, not at all. I mean, I've seen letters that he wrote to his cousins, and he wrote to his (aunt) Mimi about his aunts and his cousins. And some of them, as I say, were planning to come over and visit him not long before his death (laughs) and he was rather perturbed because he thought too many of them would be turning up in New York."
Hunter Davies wrote the 1968 authorized biography The Beatles, with the complete help and support of the Beatles and their families. Due to the fact that most of the group's parents were still alive, much of the book is now deemed to be "whitewashed" in places -- yet remains a perfect spot for a beginner to learn the Beatles' basic history.
It broke new ground describing John Lennon and Paul McCartney's songwriting session for "With A Little Help From My Friends," and the Beatles' recording session for "Magical Mystery Tour," among other insider reporting.
More From KYBB-FM / B102.7