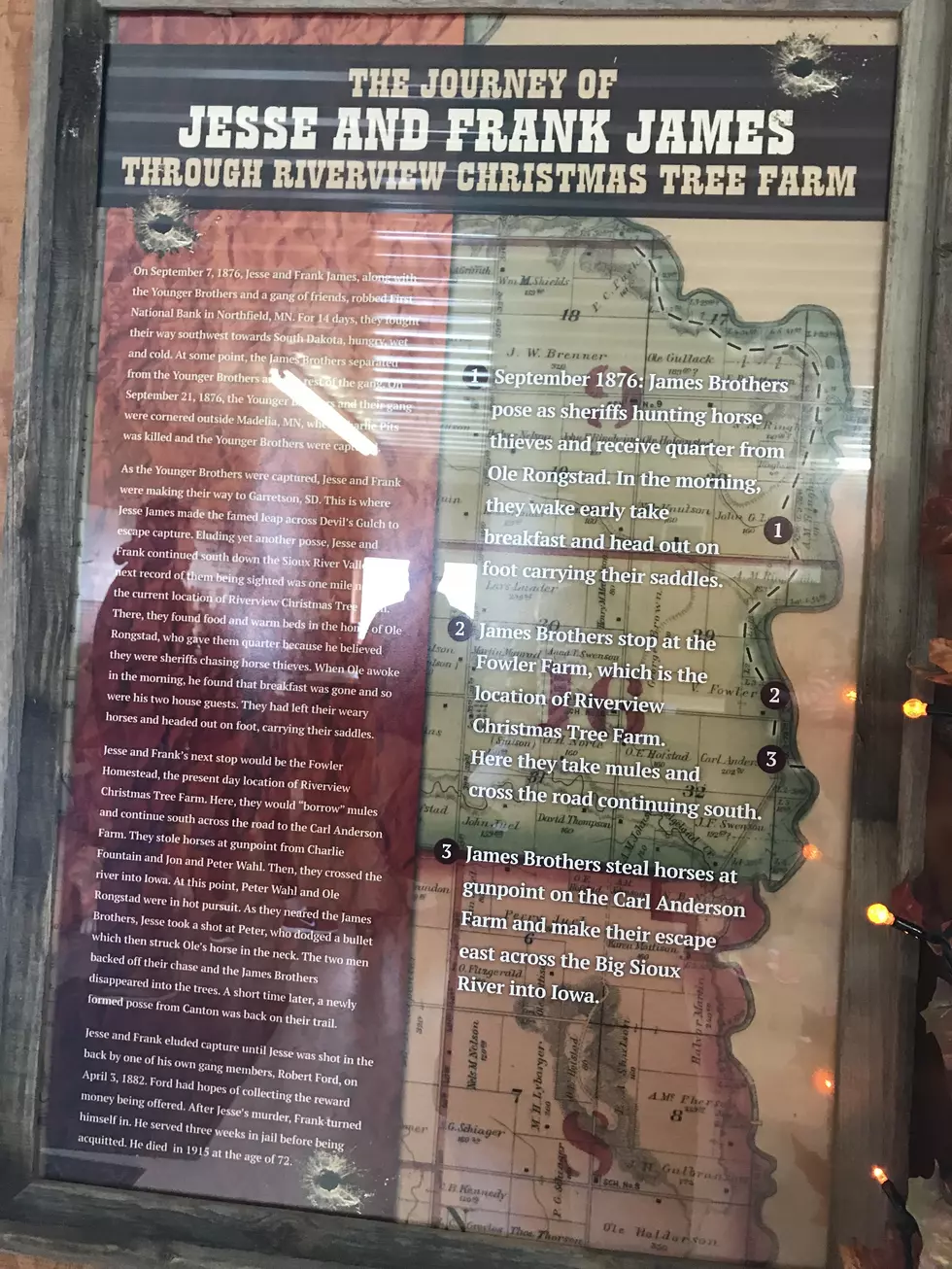 Jesse James Connection To Riverview Christmas Tree Farm
Natasha/Hot 104.7
Last weekend, I was out at the Pumpkin Festival at Riverview Christmas Tree Farm and I got myself a little history lesson.
While I was warming up inside, where they had homemade crafts and wine for sale, I noticed a poster on the wall telling the story about Jesse James' connection to the Riverview Christmas Tree Farm.
According to the poster, back in 1876 Jesse and Frank James or the James Brothers were on the run after robbing a bank in Minnesota. They eventually left their horses behind because they were running them ragged. They carried their saddles to the Fowler Farm, which is now the Riverview Christmas Tree Farm. It is here they stole mules and proceeded to run from authorities. Eventually, they made it to another farm, where they stole horses and crossed into Iowa.
By this time, word had spread not only of the James Brothers' robbery, but also their stealing of mules and horses. Two local men went after the James Brothers. Jesse took a shot at one of the locals, who dodged the bullet, but his horse was struck. The two local men backed off and the brothers disappeared into woods.
Jesse and Frank eluded capture until 1882 when Jesse was shot in the back by one of his own men, Robert Ford, who was hoping to collect reward money. Frank James eventually turned himself in and served three weeks in jail before being acquitted. He died in 1915.
So there you have it! And because of this story Riverview Christmas Tree Farm sells coffee and wine with Jesse and Frank James likeness on the label.
Riverview Christmas Tree Farm
More From KYBB-FM / B102.7