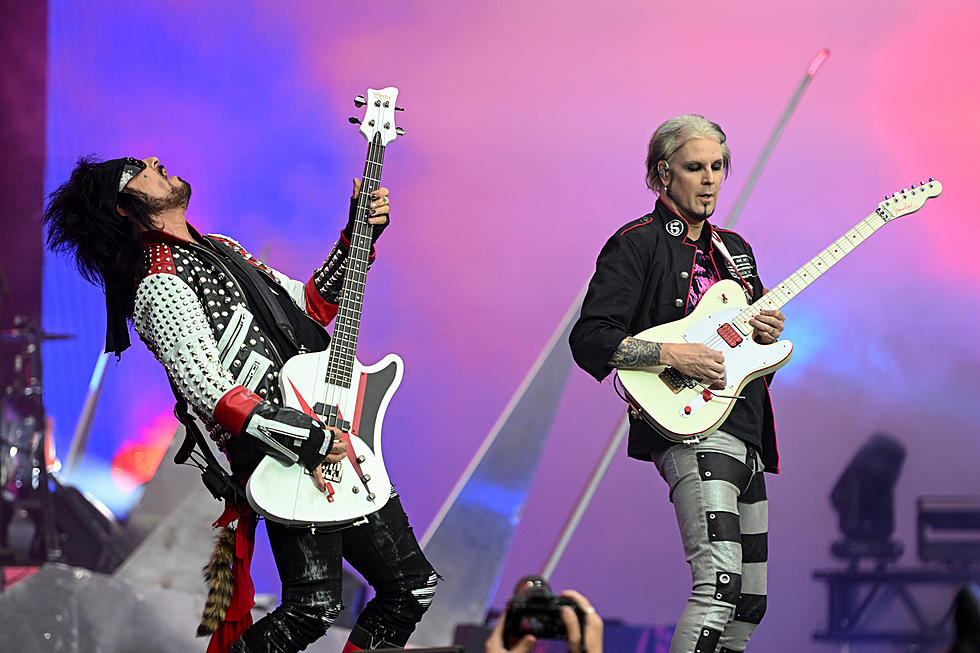 Nikki Sixx Recalls 'Seamless' Transition to John 5 in His First Motley Crue Rehearsal
Anthony Devlin, Getty Images
Making a change in a band is never easy, and when you've been around as long as Motley Crue, the stakes are even higher. But luckily for the band, their choice of John 5 to take over on guitar after Mick Mars' retirement worked out extremely well. In fact, bassist Nikki Sixx credits the guitarist with a first impression in the studio that showed they could make a "seamless" transition.
As Sixx recalls to Guitar World, they thought they'd ease John 5 into things with just one song, but the guitarist stepped right in and played their full setlist from their live show on the first go around on the fly.
"I remember going to rehearsal, and it felt, well, seamless, if that makes sense. It has nothing to do with anything other than John was so prepared. The very first rehearsal, I was like, 'What do you want to do?' Vince [Neil] or someone said, 'Let's try a song.' We were like, 'Let's just do the first song in the set,' which is 'Wild Side' at this point. We played 'Wild Side' – it segues into 'Shout at the Devil,'" recalls Sixx.
"We ended 'Wild Side' and we're kind of grinding, and then this sequence with some of the sounds of the '97 'Shout at the Devil' remake – a lot of backward loops and swells. John started swelling up. I looked at Tommy [Lee] and 'Shout at the Devil' started. We ended that, and we didn't even say anything, and we went right into 'Too Fast for Love.' We played the whole show – seamlessly. And we were like, [Laughs] 'Well, I guess band rehearsal's over.'"
The impression was evident from the start, with Sixx adding, "We started laughing. His personality, his professionalism, his sense of adventure as a guitar player, his understanding of what's so important about so many of the solos Mick played on; him wanting to honor that, not wanting to do something different during 'Home Sweet Home'; wanting to stick to what fans expected and want to hear and grew up hearing… has been just a really wonderful experience."
When asked if Tommy Lee or Vince Neil had suggested any other candidates when they were trying to fill the Mick Mars void, Sixx responded, "No, we talked about John, and that was that. I mean, it's just like we kind of knew. Because we knew him, too. It wasn't like, 'We're in a shitty situation. Let's just get a guitar player, and then we'll get another guitar player, and then we'll get another guitar player.' We were looking for somebody that wanted to be here permanently with us."
READ MORE: The Text Mick Mars Sent John 5 When He Joined Motley Crue
When asked about John 5's musical leeway to make something his own, Sixx explained, "Within the song structure, it's important that John delivers what people are used to listening to – the solos, and honoring the songs. Outside of that, complete freedom. If he wants to do a guitar solo or ad-lib at the end of a song, it's completely free-form at that point."
Where Can You See Motley Crue?
After a successful "Stadium Tour" run of the U.S. in 2022 with Mars, John 5 has been on board for the 2023 edition which saw Motley Crue take things internationally. The band currently has dates booked into November of this year, with Japan and Australian stops on the horizon. Get ticketing details here.
Motley Crue: A Timeline of Their Storied Career
A photo timeline of Motley Crue's career.
More From KYBB-FM / B102.7