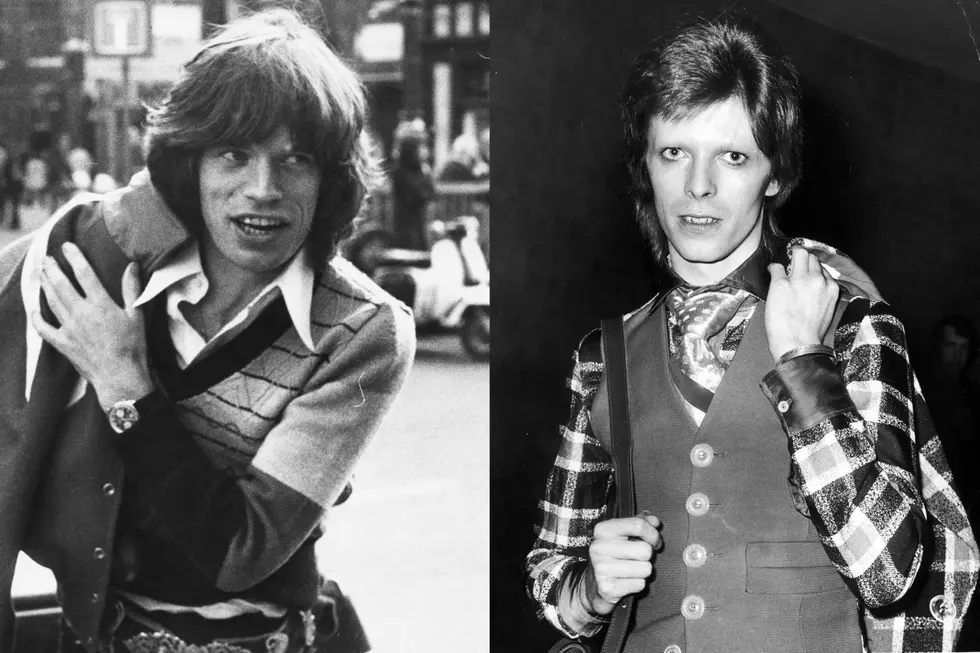 Why the Rolling Stones' 'Angie' Was Rumored to Be About Jagger-Bowie Tryst
Dennis Oulds / Leonard Burt, Getty Images
The Rolling Stones had no shortage of illicit affairs at the peak of their stardom, so it's no surprise that rumors swirled for years about the subject of their chart-topping ballad "Angie."
Yet the Goats Head Soup lead single prompted even more salacious speculation than the rest because of the parties presumably involved: David Bowie and his wife Angie, who claimed to have walked in on the Thin White Duke in bed with Mick Jagger.
Angie Bowie (nee Barnett), who was married to the "Ziggy Stardust" singer from 1970-80, stoked rumors of a Jagger-Bowie tryst when she appeared on The Joan Rivers Show in 1990 and said she walked in on the two rockers naked in bed. She reiterated this account in her 1993 memoir Backstage Passes, writing, "I felt absolutely dead certain that they'd been screwing. It was so obvious, in fact, that I had never even considered the possibility that they hadn't been screwing."
Fans speculated that Jagger wrote "Angie" to appease Bowie's wife after she caught the aftermath of their romp in the hay. But Jagger refuted her story: "People began to say that song was written about David Bowie's wife, but the truth is that Keith wrote the title. He said, 'Angie,' and I think it was to do with his daughter. She's called Angela. And then I just wrote the rest of it."
Furthermore, it seems unlikely that Angie, who had an open relationship with Bowie and admitted she only "got married so that I could work [to get a permit]," would have been so horrified by this dalliance that Jagger would have felt the need to write a song for her. She questioned in her book why Jagger's potentially fluid sexuality "should have been news to anyone who'd paid any attention to the Stones' affairs," and she noted that her ex-husband "made a virtual religion of slipping the lance of love into almost everyone around him."
Watch the Rolling Stones' 'Angie' Video
Yet if "Angie" was not an olive branch to Angie Bowie, it wasn't a dedication to Richards' daughter either. In his 2010 memoir Life, the guitarist recalled writing the song during a rehab stint in Vevey, Switzerland, while his partner, Anita Pallenberg, was giving birth to their daughter.
"While I was in the clinic, Anita was down the road having our daughter, Angela," he wrote. "Once I came out of the usual trauma, I had a guitar with me and I wrote 'Angie' in an afternoon, sitting in bed, because I could finally move my fingers and put them in the right place again, and I didn't feel like I had to shit the bed or climb the walls or feel manic anymore.
"I just went, 'Angie, Angie.' It was not about any particular person; it was a name, like 'Ohhh, Diana,'" Richards added. "I didn't know Angela was going to be called Angela when I wrote 'Angie.' In those days you didn't know what sex the thing was going to be until it popped out. In fact, Anita named her Dandelion. She was only given the added name Angela because she was born in a Catholic hospital where they insisted that a 'proper' name be added."
The exact inspiration behind "Angie" may never be certain, but other facts are clear as day. For one, the plaintive, acoustic ballad was an astronomical success upon its release in August 1973, shooting to No. 1 on the Billboard Hot 100 and No. 5 on the U.K. chart. It was a moment of heartrending clarity on an otherwise disjointed, chaotic album that marked the beginning of the Stones' downward spiral in the mid-'70s, a period of all-consuming debauchery from which it would take them years to recover.
Rolling Stones Albums Ranked
Ready to journey through the past (darkly)? Check out Rolling Stones Albums Ranked Worst to Best.
More From KYBB-FM / B102.7