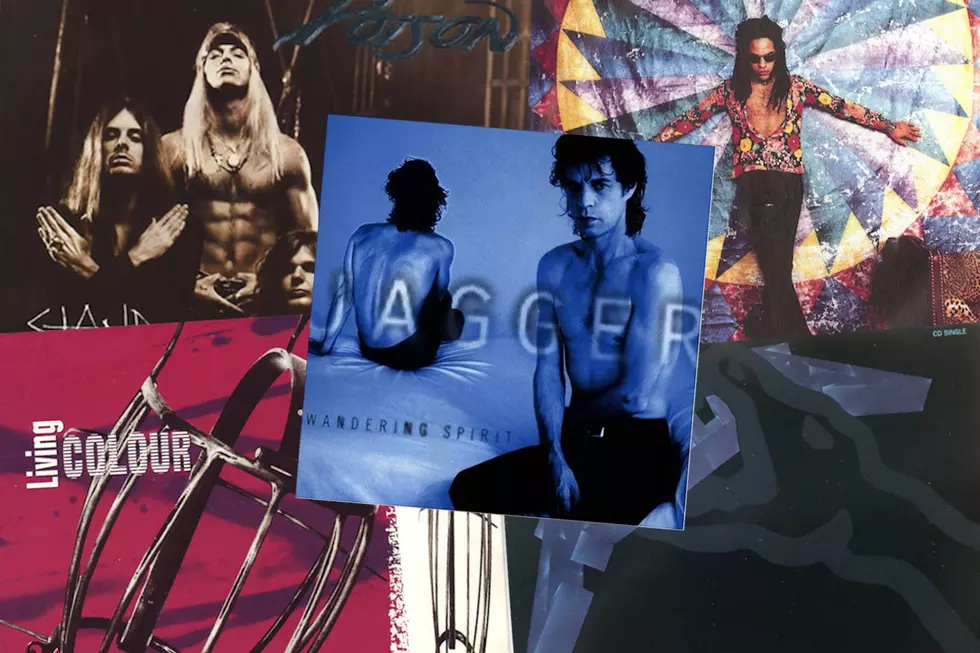 The Day Mick Jagger, Metallica and Poison All Released Music
UCR
When a solo album from the Rolling Stones' frontman is coming down the pike -- still a major deal 30 years ago -- you'd think everyone else would clear the way and just let it happen. That wasn't the case during the second week of February 1993, however.
Yes, Mick Jagger's third solo album, Wandering Spirit, received the lion's share of the attention paid to the new music releases of the week. But he didn't have the lane to himself; in fact, both Metallica and Lenny Kravitz put out singles that have become enduring favorites, while Poison and Living Colour dropped albums that marked important milestones in their careers.
Wandering Spirit certainly had the eyes and ears of music fans on it. Where Jagger's first two solo albums (1985's She's the Boss and 1987's Primitive Cool) had been released during the Stones' acrimonious hiatus, Wandering Spirit came along in the wake of the successful Steel Wheels reunion of 1989, and the massively successful Steel Wheels and Urban Jungle tours of North America, Europe and Asia. The Stones already had their sights set on what would become 1994's Voodoo Lounge, but Jagger -- a few months away from turning 50 -- had to fulfill a contractual obligation for another solo album.
He mixed things up yet again this time out, including collaborating with producer Rick Rubin that at times became "confrontational." "He hated anything that was made after 1962," Jagger told this reporter about Rubin shortly before Wandering Spirit's release. "I find there are quite a few people now...who have this kind of purist view of rock 'n' roll which I don't share. I find it touching but alarming. There are a lot of things on this record that don't' fall into Rick's purview of music, so it was kind of a different experience for him as well."
Wandering Spirit did live up to its title, cutting a wide stylistic swatch from the spare funk groove of the first single, "Sweet Thing," through some fierce rockers and excursions into gospel and country. There were three R&B covers as well as a rendition of the Appalachian folk ballad "Handsome Molly." "I didn't really set out to say, 'OK, I'm going to do a broad piece'," Jagger said. "I wrote a larger amount of songs for this record and chose from them, so I had a bigger choice to for."
Wandering Spirit was the top-charting of Jagger's solo albums in the U.S., reaching No. 11 on the Billboard 200 and being certified gold. It didn't fare quite as well on the singles front, however, with "Sweet Thing" hitting just 84 on the Billboard Hot 100 and No. 34 on the Mainstream Rock chart.
Chat success was easier to come by for Metallica. Released in August of '91, the band's massively successful self-titled fifth studio effort (aka the Black Album) had already sold more than four million copies in the U.S. by the time its fifth and final single, "Sad But True," was released.
According to frontman James Hetfield, the song's menacing tone was partly inspired by the 1978 Anthony Hopkins horror film Magic. The movie's plot centered around a magician whose split personality comes to life via a murderous ventriloquist doll. Metallica harnessed that frightening mood, creating a dark, disturbing and undeniably catchy metal track.
With a thumping drum pattern and sinewy groove, the muscular rock song was described by producer Bob Rock as "a 'Kashmir' for the 90s.'" Fans embraced "Sad But True," helping it reach No. 15 on the Mainstream Rock chart.
Metallica weren't the only ones enjoying commercial heights. Lenny Kravitz scored the first Mainstream Rock chart-topper of his career with "Are You Gonna Go My Way," released as a single on Feb. 8. The track, penned by Kravitz (who also produced) and guitarist Craig Ross, was a roaring retro tune, immediately garnering comparisons to legendary guitarist Jimi Hendrix.
"Are You Gonna Go My Way" would go on to score a pair of Grammy nominations, en route to becoming one of the defining tunes of Kravitz's career. Its popularity helped propel the album of the same name, released in March 1993, to multi-platinum sales.
Poison was on rocky ground in February 1993. Prior to their fourth studio album, Native Tongue, the group kicked out guitarist C.C. DeVille and replaced him with Richie Kotzen. Kotzen fell right in, contributing heavily to the 15-track set. Produced by Richie Zito, Native Tongue also featured contributions from Eagles' Timothy B. Schmit, Sheila E, the First AME Church Choir and the Tower of Power horn section.
Despite efforts to stretch their sound, Poison were unable to continue the success of their previous albums, which had all peaked in the Top 5. Part of this could be attributed to the changing sound of rock; by 1993, grunge had completely taken over, leaving glam metal bands in their dust. Native Tongue only climbed as high as No. 16 on the Billboard 200, while the album's lone single, "Stand," peaked at No. 15 on the Mainstream Rock chart.
One more notable single from a cavalcade of Feb. 8, 1993 releases was Living Colour's "Leave It Alone." Arriving 11 months after its parent album, Stain, the tune continued the band's onslaught at rock and alternative radio.
Powered by an infectious guitar part and emphatic vocals from frontman Corey Glover, the track climbed to No. 4 on the Alternative Airplay chart and No. 14 on the Mainstream Rock chart. "Leave It Alone" later earned a Grammy nomination for Best Hard Rock Performance at the Grammy Awards, but lost to Stone Temple Pilots' "Plush."
Top 100 '90s Rock Albums
Any discussion of the Top 100 '90s Rock Albums will have to include some grunge, and this one is no different.
More From KYBB-FM / B102.7