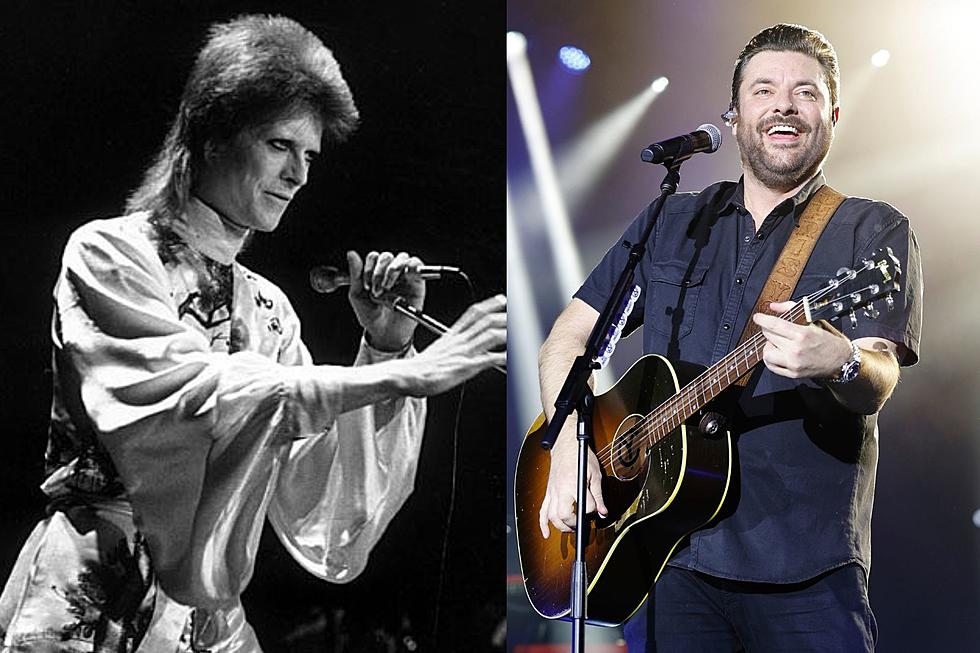 How David Bowie's 'Rebel Rebel' Inspired a Hit Country Song
Steve Wood / Jason Kempin, Getty Images
Nearly 50 years after the release of David Bowie's "Rebel Rebel," the song has found new life in the hit country single "Young Love & Saturday Nights" by Chris Young.
In 2022, Bowie's estate sold his catalog to Warner Chappell Music for an estimated $250 million. The company asked one of its songwriters, Jesse Frasure, to see about using Bowie's music in new ways; that's how Bowie, who died in 2016, came to be listed as a co-writer on "Young Love & Saturday Nights."
The track borrows the melody from Bowie's 1974 single "Rebel Rebel."
When Young first heard the demo, a bulb went off. "This song started and I said, 'That's the lick from 'Rebel Rebel,'" Young told Rolling Stone. "I immediately knew what it was. I wouldn't say that I've exhausted David Bowie's catalog, but that one is instantly recognizable."
Watch Chris Young's 'Young Love & Saturday Nights' Video
It's not the first time a classic song has made an appearance in a new country track. For example, Morgan Wallen borrowed snippets of the Allman Brothers Band's "Midnight Rider" in "Everything I Love," and Jake Owen used a bit of John Mellencamp's "Jack & Diane" in "I Was Jack (You Were Diane)."
In many cases, the presence of a familiar song has helped boost contemporary songs on the charts. However, Rusty Gaston, CEO of Sony Music Publishing Nashville, told Rolling Stone that there's still a lot of authentic songwriting happening. "The concept of a new song still has to be original and compelling and genuine and honest," he explained. "'Young Love & Saturday Nights' is a completely new idea, a completely new hook. Yes, they get the benefit of this great guitar riff that inspired it, but it's a true country song right now. And you're going to turn people on to a David Bowie song who never heard it before."
Listen to David Bowie's 'Rebel Rebel'
Bowie's estate has not commented on the song, and it's impossible to tell what Bowie, who wasn't a country music fan, would have thought of it. "I think the only music I didn't listen to was country and western, and that holds to this day," he told NPR in 2002. "It's much easier for me to say that the kind of music I didn't listen to was pretty much that."
For Young, having the Bowie connection was a big deal. "There are a lot of songs where people use something as a sample or have exactly the same melody or lyric," he said. "This is different. This is creating something new, with a nod to something that pre-existed. And if you get the reference, it just made the song even cooler for you. Just to have a song that has David Bowie listed as a songwriter is amazing."
David Bowie Albums Ranked
David Bowie is not just rock's greatest chameleon; he's also one of music's most imaginative conceptual artists.
More From KYBB-FM / B102.7