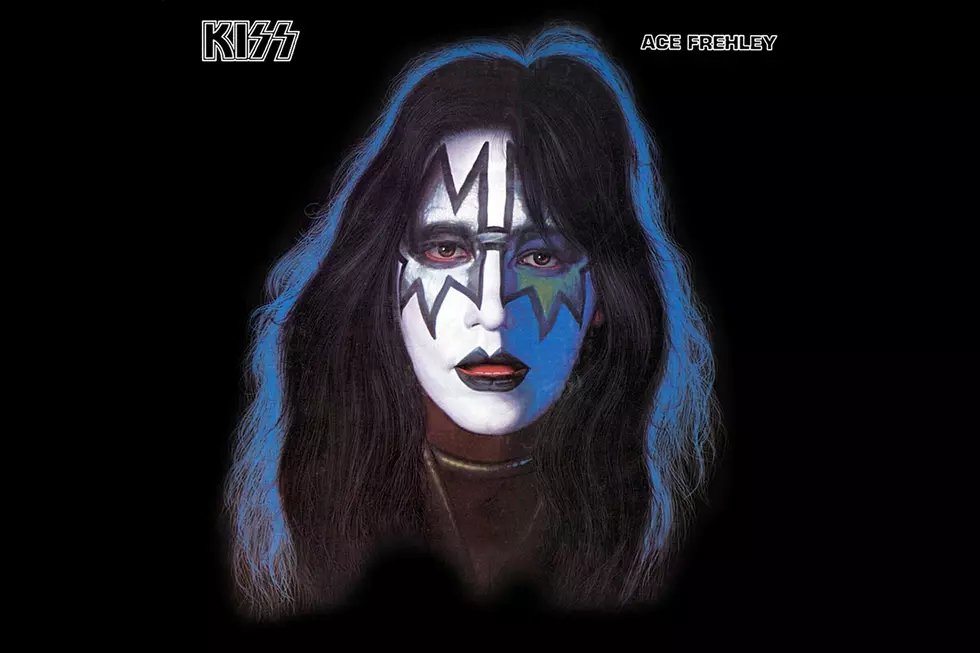 How Ace Frehley Set Out to 'Show Those F—ers' on His Solo Debut
Casablanca
A fired-up Ace Frehley wound up making the best of Kiss' four solo albums after his bandmates openly doubted if he could even complete the project without help. He also changed the group's power dynamics.
Released on Sept. 18, 1978, Frehley's self-titled effort earned high marks from fans, critics and even his once-skeptical bandmates. The album's cover of Hello's "New York Groove" was also a big hit, reaching No. 13 on the Billboard Hot 100.
Despite their ongoing commercial success, Kiss was privately coming apart at the seams in early 1978 due to exhaustion, personality conflicts and creative differences. The group had split into two camps, with Frehley and drummer Peter Criss wrestling to get more control away from principal songwriters Paul Stanley and Gene Simmons.
Then Frehley threatened to quit Kiss altogether, and the band's management instead suggested that they take a break from each other to record separate solo albums. This appeared to present a challenge for the still-shy Frehley. After all, he'd written popular Kiss songs such as "Cold Gin" and "Parasite" but couldn't be convinced to handle lead vocal duties on a Kiss song until "Shock Me," from 1977's Love Gun.
READ MORE: Ace Frehley Shares His Real-Life Spinal Tap Story
Frehley said Simmons and Stanley offered to help during the meeting where the band agreed to the plan to record solo albums – but in a manner he found insulting.
"It wasn't said with malice, but neither was it said with sincerity," he wrote in his 2011 memoir No Regrets. "There was a tone of condescension to it, like 'you're gonna need help.' I remember walking out of that meeting and thinking, 'I'm gonna show those fuckers, and I'm gonna show the world.' For the first time in a long time, I felt motivated."
Why Ace Frehley's Solo Album Was a Surprise
Show them, he did. Recruiting frequent Kiss collaborator Eddie Kramer as a producer, Frehley crafted a strong and catchy collection of songs.
"It was surprising for Ace, because I didn't think he was going to do anything that good, to be honest with you," Stanley confessed in the band's 2001 autobiography Kiss: Behind the Mask. "I was worried whether or not he was going to be able to even make an album. When I heard [the lead track] 'Rip It Out,' I went, 'All right, Ace!' Very cool. I said that sounds like a really good Kiss song."
In the same book, Kramer argued that "all three of the other guy's solo records went into the shitter. Ace's was the only one that sold, because we had a great single with 'New York Groove,' which we found." Former Kiss publicist Carol Kaye added: "The album took everyone by surprise because it was so good. Musically, it was a great leap forward."
Frehley suddenly found himself on equal footing with his bandmates as Kiss reunited to record 1979's Dynasty. He handled lead vocals on three songs, equal to Stanley and one more than Simmons. He also got a bigger share of the on-stage spotlight when the group returned to the road, as "New York Groove" and other Frehley-sung songs were added to the set lists.
Listen to Ace Frehley's 'New York Groove'
Peter Criss' Departure Deeply Impacted Ace Frehley
By contrast, his ally Criss was quickly losing ground. Still dealing with injury, addiction and creative disagreements, he only appeared on one Dynasty track, although this fact was kept secret from fans. Near the end of the tour, a frustrated Criss intentionally sabotaged shows by playing at the wrong tempo, forcing the group to fire him.
Frehley again got three lead vocal spots on Kiss' pop-friendly 1980 album Unmasked, but Criss' departure left him on the losing side of almost every disagreement within the group.
READ MORE: How Onstage Sabotage By Peter Criss Ended Kiss' Original Lineup
"This was a drastic change in the fundamental structure of the band," Frehley explained in No Regrets. "More often than not, when we disagreed, the voting was split: me and Peter on one side, Paul and Gene on the other. But now Peter was gone, and I was in trouble. The balance of power shifted heavily in favor of Gene and Paul."
It didn't take long for this arrangement to backfire, as Simmons and Stanley changed the creative direction of the band's next album. A project that was originally supposed to mark Kiss' return to straight-ahead hard rock instead became the tragically misguided 1981 medieval concept album Music From 'The Elder'.
Why Ace Frehley Hated Kiss' 'Music From 'The Elder"
Frehley objected, to no avail. "I kept trying to tell the guys that if we released an album of self-indulgent nonsense, complete with spoken dialogue and haunting wind instruments, we'd be slaughtered," he remembered in No Regrets. "Didn't matter what I said, though. I was outvoted." He distanced himself from the sessions, sending over many taped contributions from a separate studio.
As Frehley predicted, Music From 'The Elder' was a much-mocked flop. Frehley's first stint in the band was over, although the public wouldn't know it until Kiss launched a tour in support of their next album with Vinnie Vincent in the lineup. Frehley's face appeared on 1982's Creatures of the Night, but he didn't participate in the sessions.
"I knew that if I didn't leave the group, I was going to die," Frehley explained in No Regrets. "I felt no connection to Kiss and wasn't happy with the direction the band was taking."
Frehley's first post-Kiss solo album, Frehley's Comet, wouldn't arrive until 1987 as he endured an extended battle with addiction and then recovered from a serious 1983 car accident. More than a half dozen albums followed. Frehley reunited with the original lineup of Kiss in 1996 for a highly lucrative series of tours, but then once again resumed his solo career.
READ MORE: How Kiss Revived Their Career With 'Creatures of the Night'
Kiss Solo Albums Ranked Worst to Best
Counting down solo albums released by various members of Kiss.
Which Rock Star Would Ace Frehley Raise From the Dead?
More From KYBB-FM / B102.7