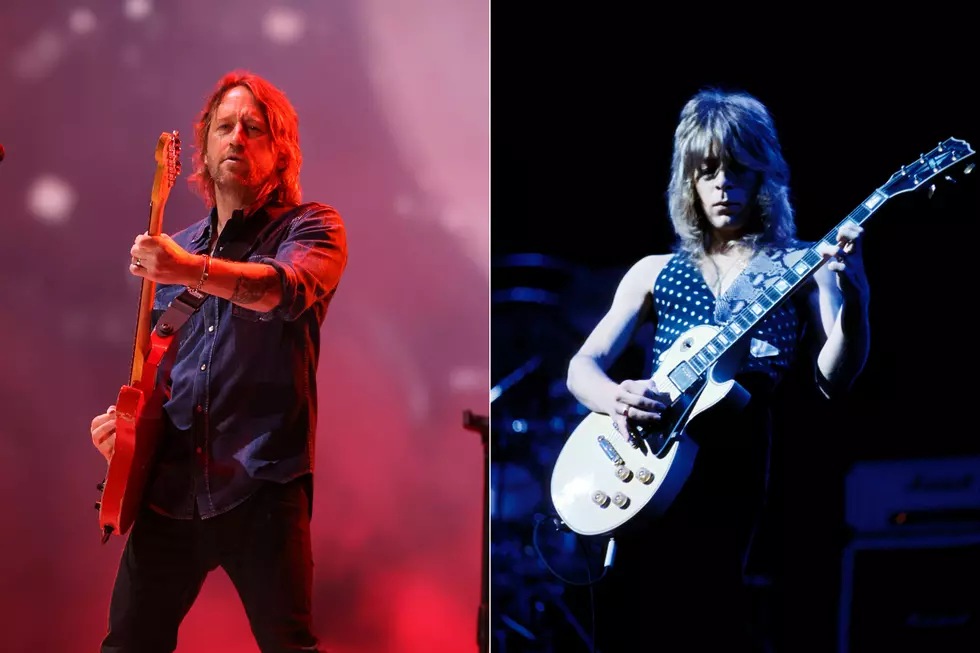 Foo Fighters' Chris Shiflett Wore a Mall-Made 'Randy Rhoads Is God' Shirt in Yearbook Photo
Kevin Winter / Fin Costello/Redferns, Getty Images
It's one thing to say you love a musician, but it's quite another when you've got the shirt to prove it. Thanks to the Internet, we can now appreciate the lengths that Foo Fighters guitarist Chris Shiflett went to in order to share his love of the late guitar god, Randy Rhoads.
Thanks to a dedicated Foo Fighters and Taylor Hawkins fan going by the Twitter handle Ava / O.T.H., an old Shiflett class picture photo has surfaced with the long-haired youth sporting a Randy Rhoads T-shirt. But this is no ordinary T-shirt. Shiflett himself had it made with a specific message.
In introducing the photo, the poster wrote, "And the award for the most righteous school picture goes to Mr. Chris Shiflett!! like seriously this is hands down the most awesome class pic I've ever seen, need to find a Randy shirt like that asap."
Shiflett then saw the posting and added some more context to the shirt's history, commenting, "FYI - the full text of that shirt was 'randy rhoads is god' and I had it made at a mall kiosk. ah the good ole days..."
In an interview with Premiere Guitar, Shiflett offered some insight into the guitar influences he had in his youth and kept to modern day, stating, "When I was a little kid, I had older brothers and everything, and we're talking about the 1970s into the '80s, and it was the 'Guitar Hero' era. And so my heroes, the reason I play guitar, is because of guys like Richie Blackmore and Ace Frehley and Randy Rhoads and Eddie Van Halen, and all those people. So those were my guitar-playing heroes when I was little. I mean, still are, really."
Rhoads first started playing with Quiet Riot before joining Ozzy Osbourne at the start of the Prince of Darkness' solo career. It was that Osbourne spotlight that catapulted Rhoads to a new level of fame where he was often mentioned alongside several other of the guitar heroes of the day that Shiflett rattled off as his early influences.
These days, that Randy Rhoads loving kid has turned into the Foo Fighters longtime guitarist. As was recently revealed, the band does intend on continuing following the death of Taylor Hawkins last year, and they've started booking a number of festival appearances for 2023.
66 Best Hard Rock + Metal Guitarists of All-Time
More From KYBB-FM / B102.7