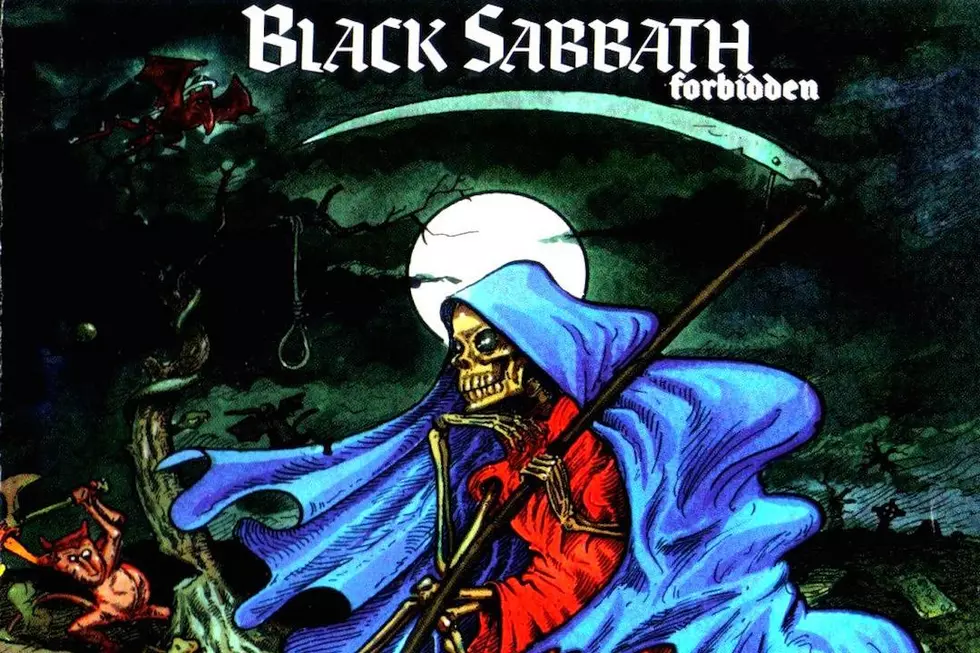 When Black Sabbath Hit Rock Bottom With 'Forbidden'
I.R.S.
Black Sabbath's storied career reached its creative and commercial nadir with the June 20, 1995 release of the universally panned Forbidden. For once, even the harshest of critics and most devoted of fans were in agreement: Black Sabbath were in a bind, barely hanging onto the fringes of metal's public consciousness.
But then barely surviving had pretty much been status quo for Sabbath over the previous decade, except for a year-long return to mainstream relevance for the Ronnie James Dio-fronted Dehumanizer album and tour in 1992.
Some records released during the period (namely 1987's The Eternal Idol and 1989's The Headless Cross) delivered impressive results, even if substandard promotion meant most fans were totally oblivious, but the ugly fallout with Dio (again) tried everyone's patience.
None of this was the fault of underrated Sabbath singer Tony Martin, who, on Forbidden, was recording his fifth album with guitarist Tony Iommi, along with the returning rhythm section of drummer Cozy Powell and bassist Neil Murray (plus longtime keyboard player and utility man Geoff Nicholls).
Ultimately, what distinguished Forbidden was the curious choice of producer: Body Count guitarist Ernie C. It would be unfair to blame him for the disappointing results, because there's plenty of blame to go around for the generally uninspired material that wound up on Forbidden. Iommi's admitted that the material were hurried into shape, and that he wasn't present for much of the mixing process. There were also persistent rumors that the end goal was simply to fulfill contractual obligations and clear the way for a long-awaited Ozzy Osbourne reunion.
Whatever the reasons, the songs were simply not there, consisting of lifeless recycling of earlier and better Martin-sung cuts. Only the semi-memorable "Can't Get Close Enough to You," melancholy "I Won't Cry for You" and energetic title cut manage to make any sort of effort. Things weren't totally terrible, but most fans didn't even make it far enough to realize that since they were turned off by the ill-advised Ice-T rap shoehorned into Forbidden's tired and lumbering opener, "Illusion of Power."
Either way, Forbidden left Black Sabbath's recorded legacy dangling on a particularly sour note for nearly 20 years, until 2013's 13 rectified that with a work that fans and critics could once again agree on, this time in a more positive light.
 
 
Black Sabbath Albums Ranked
You Think You Know Black Sabbath?
More From KYBB-FM / B102.7