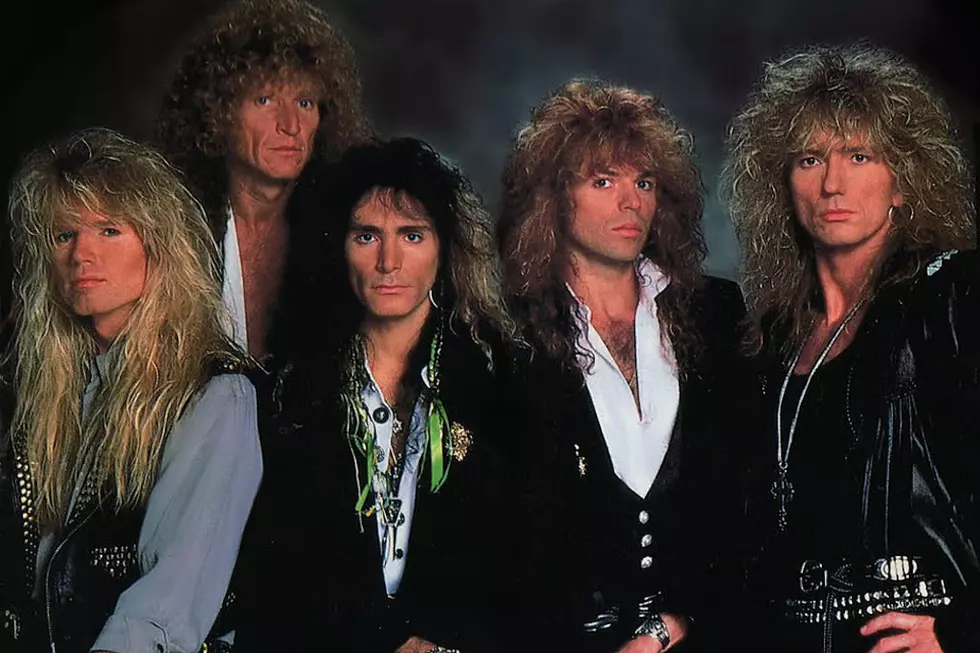 Why Whitesnake's 'Slip of the Tongue' Marked the End of an Era
Geffen
When Slip of the Tongue arrived in stores on Nov. 18, 1989, Whitesnake's career had never been so healthy, thanks to recent platinum sales, smash hits and sold-out tours. But that doesn't mean it was any less of a rock 'n' roll soap opera behind the scenes.
It had taken Whitesnake leader David Coverdale 10 long years to break his band in the U.S. with their self-titled 1987 album. But you could hardly even call them a band at the time, since guitarist John Sykes, bassist Neil Murray and drummer Aynsley Dunbar were collecting unemployment checks before the record even left the pressing plants.
Coverdale expediently recruited guitarists Adrian Vandenberg and Vivian Campbell, bassist Rudy Sarzo and drummer Tommy Aldridge into their vacant spots, and then proceeded to conquer the airwaves with retooled hair metal, aided by a series of soft-porn music videos that shamelessly molested MTV for months on end.
Two exhausting but rewarding years later, Whitesnake's League of Nations lineup (Coverdale was British, Vandenberg was Dutch, Campbell was Irish, Sarzo was Cuban and Aldridge was American) were all set to record Slip of the Tongue – until Coverdale and Campbell had a falling out and Vandenberg broke his wrist.
Suddenly, Whitesnake were down both guitarists, so an emergency call was placed to six-string maestro Steve Vai, who was up for the gig, having just quit his job with David Lee Roth's band. But it was anyone's guess whether his flamboyant virtuosity would lend itself to Coverdale and Vandenberg's music.
Then again, as Coverdale himself later admitted, the songs they recorded for Slip of the Tongue didn't have all that much in common with Whitesnake's earlier, and distinctly flash-free, heavy blues-rooted music. So in the age of '80s hair-metal excess, this shotgun musical wedding gave fans exactly what they wanted.
The songs on Slip of the Tongue range from the widescreen pomp-metal grandstanding of the title track and "Wings of the Storm" to the lascivious Sunset Strip-approved sleaze of "Cheap an' Nasty" and "Kitten's Got Claws," to the requisite syrupy love songs "Now You're Gone" and "Deeper the Love" to the majestic Led Zeppelin rewrites "Judgement Day" and "Sailing Ships."
If they share any particular trait, it's the stuffing of every available space between the notes with lush synthesizers, cat-in-heat squeals and Vai's look-at-me! virtuosity. But it's the bright cosmetic makeover applied to the Whitesnake warhorse 'Fool for Your Loving' that best gauges the sheer scope of the album's excessiveness.
In any case, Slip of the Tongue easily shot into the Top 10 and cruised to platinum status, while producing four hit singles. The band once again filled arena seats with thousands of spandex-clad butts for the next two years – until Nirvana turned the musical landscape upside down practically overnight.
But by then, Coverdale had decided to temporarily disband Whitesnake and collaborate with Jimmy Page in a move that today seems like an obvious gambit by the Zeppelin guitarist to force Robert Plant's hand into reviving their old band for an album and tour. Coverdale eventually re-formed Whitesnake, and has recorded and performed with various rotating lineups ever since. Tellingly, little of the Slip of the Tongue has made it to the set lists.
Top 50 Classic Heavy Metal Albums
We take a look at some of the heaviest, loudest and most awesome records ever made.
Whitesnake Video Star Tawny Kitaen's Rock 'n' Roll History
More From KYBB-FM / B102.7