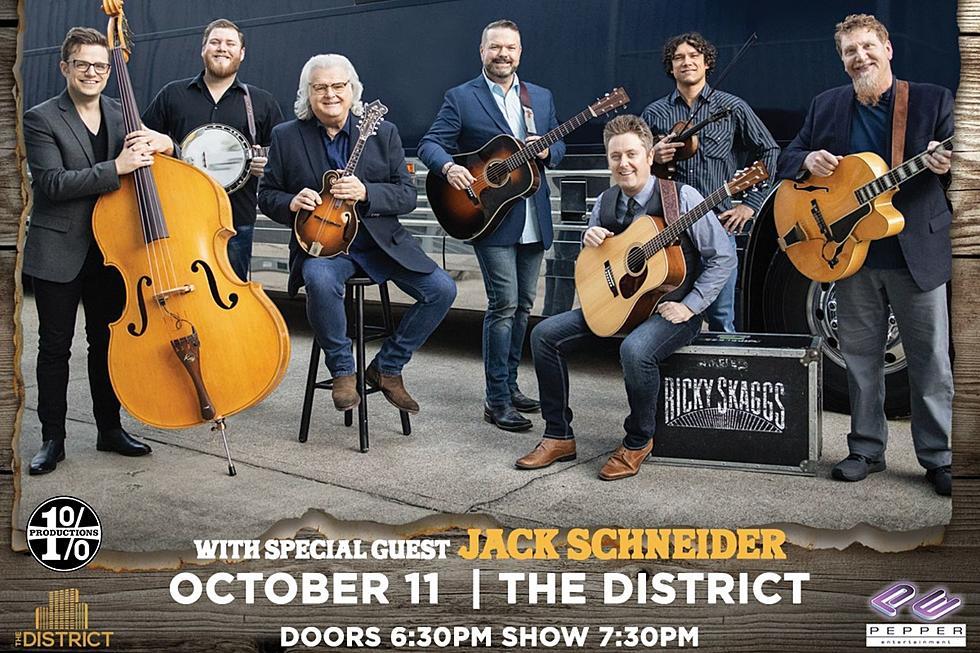 Ricky Skaggs Coming to the District in Sioux Falls
Credit: Pepper Entertainment/The District
Get ready for a great night of country music. Ricky Skaggs and his band Kentucky Thunder will be taking the stage at the District in Sioux Falls on Wednesday, October 11.
Also on stage will be special guest and singer/songwriter Jack Schneider.
Here's the Press Release From Pepper Entertainment:
Fifteen-time GRAMMY® Award-winner Ricky Skaggs' career is easily among the most significant in recent
country music history. If Skaggs' burgeoning trophy case full of awards wasn't already enough evidence
of that fact, consider that legendary guitarist Chet Atkins once credited Skaggs with "single-handedly
saving country music." His life's path has taken him to various musical genres, from where it all began in
bluegrass music, to striking out on new musical journeys, while still leaving his musical roots intact.
In the past decade, he has been honored with inductions into the Gospel Music Association's Gospel
Music Hall of Fame and the Musicians Hall of Fame. In 2018, a landmark year, Skaggs was also awarded
membership into the National Fiddler Hall of Fame, the IBMA Bluegrass Music Hall of Fame and country
music's greatest honor, the Country Music Hall of Fame. Most recently, he was awarded the prestigious
National Medal of Arts in 2020 for his contributions to the American music industry.
Ricky struck his first chords on a mandolin over 60 years ago, and he continues to do his part to lead the
recent roots revival in music. Clearly his passion for it puts him in the position to bring his lively,
distinctively American form of music out of isolation and into the ears and hearts of audiences across

the country and around the world. Ricky Skaggs is always forging ahead with cross-cultural, genre-
bending musical ideas and inspirations.

-Pepper Entertainment Press Release
Presale tickets for the show will be available here on June 8, from 10a-10p, under the code "pepper". Tickets officially go on sale Friday, June 9 at 10 am and can be purchased here.
11 Famous People from South Dakota
OK, so we're not Hollywood, but there are a number of famous people who were born in the Rushmore State. Here's a list of 10 famous people who were born in
South Dakota
!