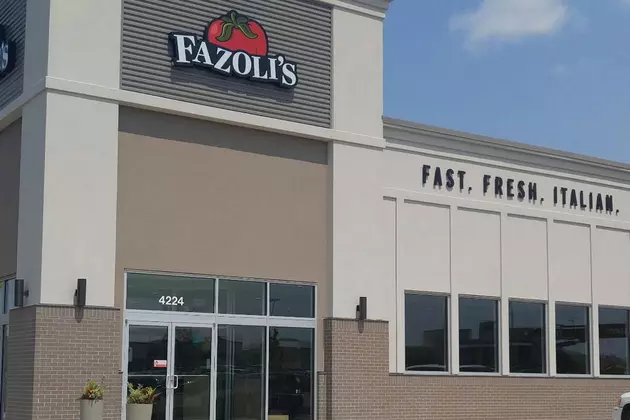 Fazoli's Opens in Sioux Falls. We Tried It.
David Bachmann (photo used with permission)
Fazoli's breadsticks have arrived in Sioux Falls. Fazoli's is America's largest fast casual Italian chain and they are now open at 4224 West Empire Place in front of the Empire Mall.
When we first announced Fazoli's was coming to Sioux Falls, our Facebook page blew up with comments about their breadsticks. I had a chance to try them on Tuesday (August 1) and they live up to the hype. They're good because they're drenched in butter and garlic! What could be wrong with that?
Fazoli's serves your classic Italian favorites like lasagna, spaghetti and meatballs, fettuccine alfredo, Italian subs, pizza and salads.
I tried the Oven-Baked Classic. It's a sampling (a rather large sampling) of fettuccine alfredo, lasagna with meat sauce, spaghetti and meatball baked with mozzarella and provolone cheeses. It was a huge portion and a great way to try several menu items at once so you'll know what to order next time. Since I only paid $7.99, I figured my portion would be rather modest. I was surprised to see how huge of a portion I received. Plus, you get unlimited breadsticks, and your meal comes on a real plate with real silverware. No paper plates and sporks here.
My friend chose the "Create Your Own Pasta." She chose fettuccine noodles with alfredo sauce. It was also a sizable portion.
Servers bring your food to the table and then offer fresh-grated Parmesan cheese. Honestly, there is not enough cheese in that grater for me. Would it be rude if I just asked them to leave the grater at the table with a fresh block of parm?
We both tried cheesecake for dessert which helped suppress the garlic aftertaste from the breadsticks.
I didn't notice in the restaurant, but I saw on the website they have a brownie gelato sundae. Definitely going to try that. There are several other menu items I look forward to trying like the Primo Submarino sandwiches.
I will also be utilizing their drive-thru when I have a breadstick craving. I'm hoping I can get a side of alfredo sauce to dunk them in. Yum!
This place is going to be dangerous being so close to work and home.
Hours are 10:30 AM - 10:00 PM Sunday through Thursday and 10:30 AM - 11:00 PM Friday and Saturday.
---
More From KYBB-FM / B102.7