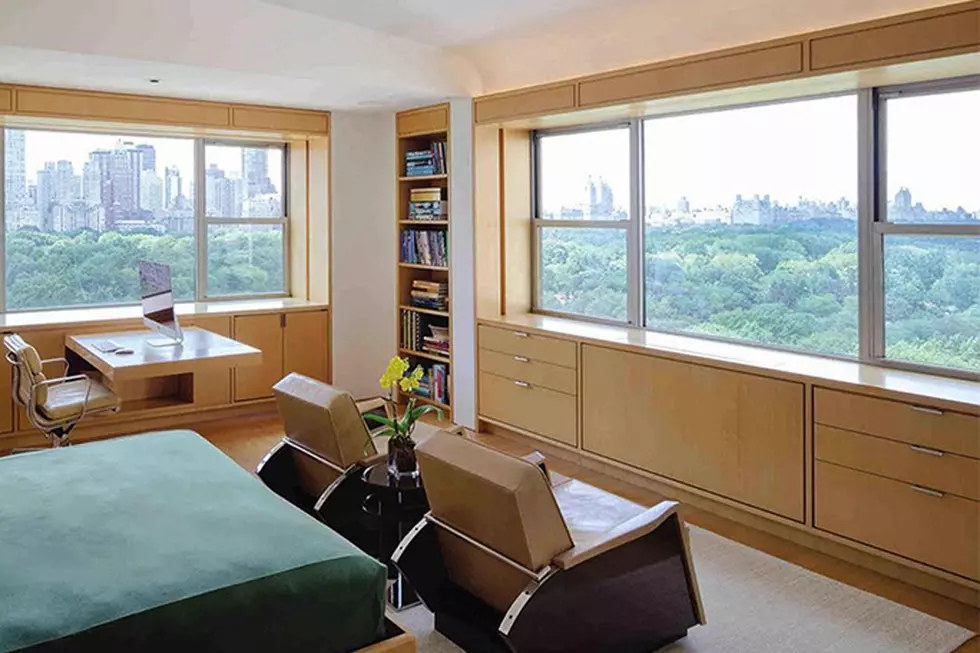 David Geffen Sells New York Apartment for $24.5 Million
Corcoran
David Geffen, the entertainment industry mogul who founded the Asylum and Geffen record labels, has off-loaded one of three apartments he owns in a New York co-op building. The price was $24.5 million, $3 million less than the asking price when the unit was placed on the market in September 2016, although the listing was removed a few months later.
According to StreetEasy, the 5,000-square-foot, two-bedroom, two-and-a-half bath residence on the top floor of the Parc V building at 785 5th Ave. was designed by famous architect Charles Gwathmey. The master suite contains a large sitting area and a dressing room. A third bedroom had been converted into a screening room with a projection booth.
Defined as "one of Fifth Avenue's most refined white-glove cooperatives," the 17-story Parc V stands across the street from the southeast corner of Central Park, and the apartment offers views of the park and the Plaza Hotel. The building's amenities include 24-hour security, a live-in superintendent, a renovated gym and a storage facility. Maintenance fees are $12,192 per month. Variety says that Geffen also owns a one-bedroom, one-and-a-half bathroom unit on a middle floor and three-story, 12,000-square-foot penthouse.
According to Mansion Global, he sold it to Eugene Shivdler, a Russian-American oil and mining tycoon. Geffen purchased the apartment in 2010 from another entertainment industry power player, Robert A. Daly, for $14.17 million. Before it was taken off the market, the listing had been held by Corocoran.
Geffen famously began his career in the mailroom of the William Morris Agency and eventually became a manager, with Crosby, Stills & Nash among his clients. Unable to find a label for Jackson Browne, he founded his own label, Asylum, which became the home for many artists in the Laurel Canyon scene, including the Eagles, Joni Mitchell, Linda Ronstadt and Warren Zevon. Later, he founded Geffen Records, signing such acts as John Lennon, Aerosmith, Guns N' Roses and Nirvana.
More From KYBB-FM / B102.7