Paul McCartney Releases 'New' Album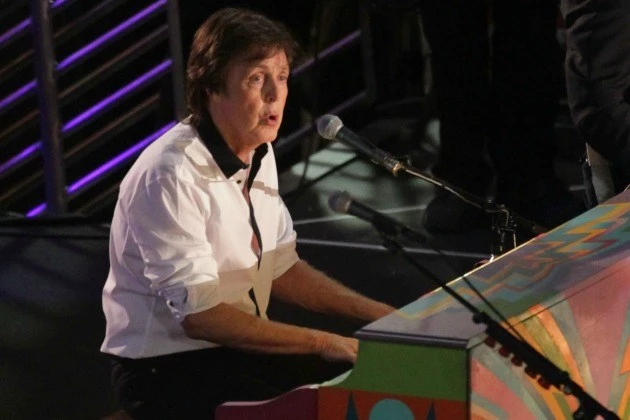 The long wait is over — Paul McCartney's first mainstream studio album in six years, called New, is out today (October 15th). New, which is McCartney's third album released on the Concord/Hear Music imprint, is co-produced by Mark Ronson — the stepson of Foreigner's Mick Jones and brother to former Lindsey Lohan squeeze, DJ Samantha Ronson. He's best known for producing Bruno Mars, Amy Winehouse, Adele, and Rufus Wainwright; Giles Martin — George Martin's son — is best known for co-producing of The Beatles LOVE and being the custodian of the Beatles' archives these days; Glyn Johns' son, Ethan Johns, is best known for his work with Joe Cocker, Kings Of Leon, and Ryan Adams; and Paul Epworth is known for his albums with Adele, Florence And The Machine, and Cee Lo Green.
Although the album's title track and lead single, New, is a straight-forward Beatle-esque McCartney pop rocker, the album's second single, "Queenie Eye" — like most of the New album — is decidedly experimental with a Euro-Pop-style rave-up production. McCartney has enlisted some of his A-List friends and associates to appear in the still-to-be aired video for the track.
The Daily Record has a spy on the scene, who reported: "There were a whole host of celebrities taking part. It was a really mixed bunch. Meryl Streep and (Take That's) Gary Barlow were in the studio, and there was an audience on set." Also appearing together for the first time since their 1998 split was Johnny Depp and former flame Kate Moss: "They really try to avoid one another in public because there have been raw emotions in the past — but neither could say no to Macca. They only have little roles, but it's the first time they're appearing on-screen together since the split."
McCartney explained how he snagged such high-profile personalities for the clip: "They are friends of mine and (daughter) Stella's. I am very lucky they agreed to do it."
Subscribe to KYBB-FM / B102.7 on