Led Zeppelin Meeting The Press In NYC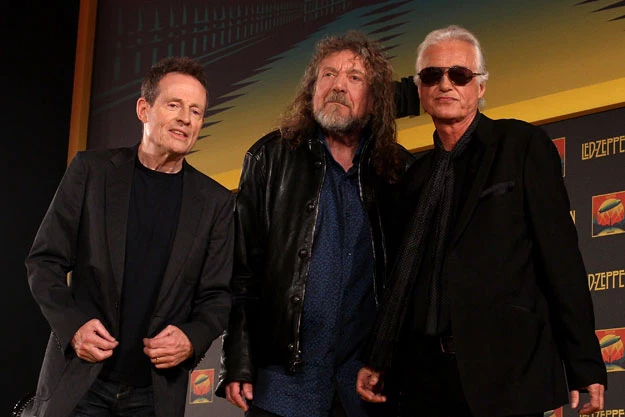 On October 9th, after the press screening of their new concert movie, Celebration Day, Led Zeppelin — Robert Plant, Jimmy Page, John Paul Jones, and Jason Bonham filling in for his late dad John Bonham — will hold a press conference at Manhattan's Museum of Modern Art. The night the band will also be on hand at the public premiere of the movie at the Ziegfeld Theater. Celebration Day was recorded and filmed at Led Zeppelin's December 10th, 2007 reunion show at London's O2 Arena and will be released on CD, DVD, Blu-ray disc on November 19th through Swan Song/Atlantic Records.
The New York Times reported that original band members will attend the October 12th London premiere at the Hammersmith Apollo; with John Paul Jones attending the October 15th Berlin premiere and Jimmy Page representing the band at the Tokyo premiere on October 16th.
Jason Bonham admits says that living up to his father as a musician has been at points an unwinnable situation: "When your father is 'The MAN' (laughs) as he's known by every drummer; y'know, usually John Bonham's in their list. You've got that to live up to. A lot of drummers have expectations of you, too — or they're ready to criticize you. So, because I lost him at 14, I never went through the adolescent years of hating a father or going through that."
NEWLY ADDED: Jason Bonham's Led Zeppelin Experience (subject to change):
October 5 – Napa, CA – Uptown Theatre Napa
October 6 – Reno, NV – Silver Legacy Resort Casino
October 8 – Napa, CA – Uptown Theatre Napa
October 11 – Los Angeles, CA – Greek Theatre
October 12 – Las Vegas, NV – Aliante Casino
October 13 – Indio, CA – Fantasy Springs Resort Casino & Special Events Center
October 14 – San Francisco, CA – Warfield Theatre
October 16 – Sacramento, CA – Crest Theatre
November 9 – Westbury, NY – NYCB Theatre At Westbury
November 10 – Philadelphia, PA – Electric Factory
November 11 – York, PA – Strand-Capitol Performing Arts Center
November 12 – Niagara Falls, NY – Rapids Theatre
November 14 – Port Chester, NY – The Capitol Theatre
November 15 – Montclair, NJ – Wellmont Theatre
November 16 – Wilmington, DE – Grand Opera House
November 17 – Pittsburgh, PA – Carnegie Music Hall
November 19 – Royal Oak, MI – Royal Oak Music Theatre
November 20 – Milwaukee, WI – Pabst Theater
Subscribe to KYBB-FM / B102.7 on