New Eagles Album in the Works? Joe Walsh Says 'We've Got Some Stuff in the Can'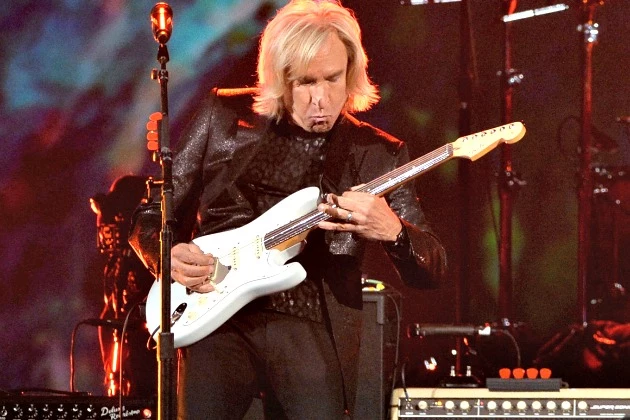 Joe Walsh's appearance at the MAP MusiCares benefit on May 12 was all about honoring Ozzy Osbourne, but he still set aside a few minutes to speak with Billboard about upcoming projects.
Judging from his remarks, it sounds like he's making up for lost time after the 20-year break he took between his most recent solo effort, 2012's 'Analog Man,' and its predecessor. Although he refrained from offering too much in the way of details, it's clear he's been spending a lot of time in the studio, and we should be hearing his distinctive guitar work pop up in a number of places — including upcoming releases from Foo Fighters and War.
"I've been playing on other people's stuff," Walsh explained. "I was a Foo Fighter for two days. I joined the Foo Fighters for two days and I played on a track of theirs that's gonna come out. I played on a War song. I love War. They sent me a song ['Mamacita'] and I put guitar on that, so I'm a low rider and a Foo Fighter."
Asked what's happening on the Eagles front, Walsh cautioned that he didn't know if anyone would ever hear it, but "we've got some stuff in the can." And he continues to make plans for a follow-up to 'Analog Man'; as he told Billboard, "I've got a blues album." Walsh added that he'd jump at the chance to collaborate a second time with 'Analog' producer Jeff Lynne. "I hope we get to work together again in the future. He's amazing," Walsh said. "He's another crusty old veteran."
Source:
New Eagles Album in the Works? Joe Walsh Says 'We've Got Some Stuff in the Can'