40 Years Ago: David Bowie Launches U.S. 'Ziggy Stardust' Tour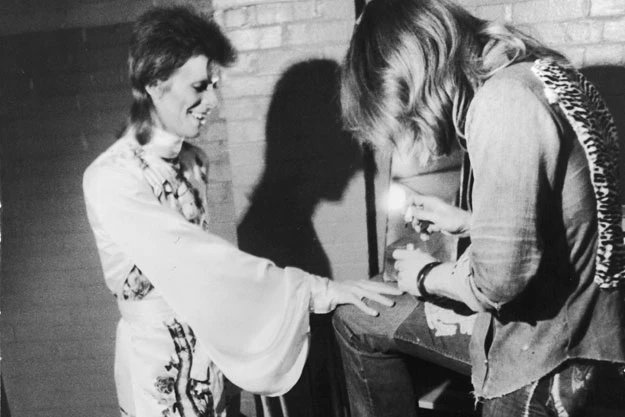 An alien arrived on American shores 40 years ago. On Sept. 22, 1972, David Bowie brought Ziggy Stardust to the Cleveland Music Hall on the opening night of the American leg of his tour. Bowie's album 'The Rise and Fall of Ziggy Stardust and the Spiders from Mars' had been released three months earlier and this was America's first-ever glimpse of the budding superstar.
Accompanying Bowie were the Spiders from Mars - Mick Ronson (guitar), Trevor Bolder (bass) and Mick "Woody" Woodmansey (drums). Mike Garson joined the tour at this date as the keyboardist, the fourth person to fill that role since April.
Shortly before her death last year, Jane Scott of the Cleveland Plain Dealer wrote of the show, "He sailed over; he won't fly, his wife said. Orange-haired Bowie, one of the most important figures of '70s rock, seemed a little awkward at an earlier press conference, but after his smash show, he eluded his security guards and was eager to talk about coming shows. We reporters sensed that a star was born that night."
As was so often the case, Scott was spot-on with her assessment. A sold-out performance at New York's Carnegie Hall six days later turned the nation's heads and led to the tour being extended for another two months.
But as much as Ziggy was loved, by the next year Bowie was ready to move on. In July 1973 on the last night of the tour at the Hammersmith Odeon, Bowie, possibly due to a rift with the Spiders over money, told the crowd, "Of all the shows on the tour this particular show will remain with us the longest, because not only is it the last show of the tour, it's the last show we'll ever do."
Hear David Bowie Perform 'Hang Onto Yourself' in 1972
Source:
40 Years Ago: David Bowie Launches U.S. 'Ziggy Stardust' Tour