Buy Springsteen's 'Born To Run' House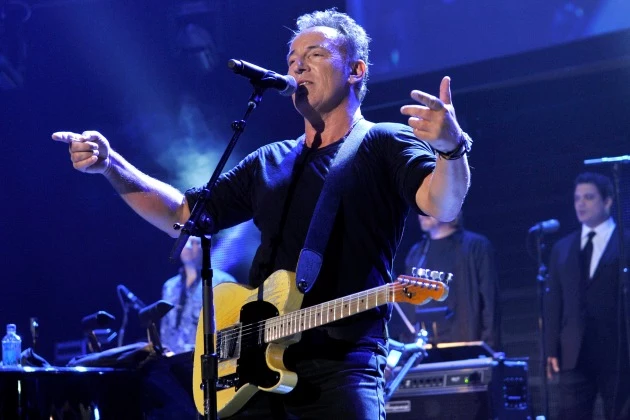 The Long Branch, New Jersey cottage that Bruce Springsteen lived in while writing and recording 1975's Born To Run is up for sale for a cool $349,000 with Keller Williams Realty. CNBC.com reported: "The 1920 shotgun house is just 828 square feet with two bedrooms, a bath, living room and kitchen, front porch, back patio, and small fenced-in yard. But it's also got location working in its favor, being just one block from the beach." It was while living in this house that Springsteen wrote such timeless classics as "Thunder Road," "Backstreets," "Jungleland" and "Born To Run," among others.
Back in 2009, the current owners paid $280,000 to save the West End Court house from being leveled, and the current resident — who wished not to be named — said that the current owners put substantial work into the cottage "including repairing the deteriorated side wall, installing hardwood floors, ceiling fans and siding, and updating the bathroom and heat."
He went on to say: "If Bruce is doing something up at the Meadowlands, fans from all over are around. Italy, Norway, Germany, Canada. . . Usually when Bruce is doing something, they come out. You meet a lot of nice people."
The house is zoned as "commercial-residential," which leads one to believe that in the right hands, the house could hold some type of Springsteen museum — although nothing of the sort has been announced. The owners are hoping to sell the property to a buyer who'll keep the structure standing, due to its historical importance.
Out now is the new Bruce Springsteen biography by author Peter Ames Carlin, called Bruce. Carlin says that key sources for the book came out in droves to help tell "The Boss'" story: "A lot of people at Columbia Records. I talked to, like, a dozen-plus of their executives, former executives, former presidents and got a lot of really strong information from their end of the story. Vini Lopez, the first drummer in the band was very quick to say yes. Mostly, it was surprising to me how many valuable and completely unheard stories I was hearing just from the regular people Bruce has moved among his hole life in Freehold and Monmouth County in New Jersey."
Subscribe to KYBB-FM / B102.7 on