41 Years Ago: Bruce Springsteen's 'Greetings from Asbury Park, N.J.' Released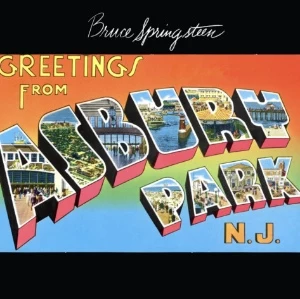 It would take a few years before anybody realized it, but 41 years ago today (Jan. 5) a rock and roll revolution was launched from an unlikely place. Bruce Springsteen's debut album, 'Greetings From Asbury Park, N.J.,' was released upon an unsuspecting world on Jan. 5, 1973.
Seven months earlier Springsteen, playing acoustic guitar, had passed an audition at Columbia Records with John Hammond, the legendary A&R man who had signed Bob Dylan, Aretha Franklin, Billie Holiday and many others to the label. Hammond heard the verbal dexterity in such songs as 'Does This Bus Stop at 82nd Street,' 'It's Hard to Be a Saint in the City' and the unreleased 'If I Was the Priest' and thought he had found the new Dylan. He wanted to record a mostly acoustic album in the singer-songwriter mode.
Springsteen, however, had been honing his craft for the previous six years or so in a variety of rock bands on the Jersey Shore, and didn't see himself as a folkie. A compromise was reached: Springsteen would be allowed to bring in a band, but only in a limited capacity.
He hired a few of the local musicians he had played with over the years — notably keyboardist David Sancious, bassist Garry Tallent and drummer Vini "Mad Dog" Lopez — to flesh out his sound on many of the tracks, with saxophonist Clarence Clemons joining in on 'Spirit in the Night.' The five – with organist Danny Federici – would soon become known as the E Street Band.
However, the need to scale back the sound meant that Springsteen's best friend, guitarist Steve Van Zandt, was told to go home on the day of the first session. Van Zandt was so hurt that he quit playing music for nearly two years.
The result of those sessions was either a strong album with a few duds, or a weak record with enough winners to justify Hammond's belief. The opening one-two punch of 'Blinded by the Light' and 'Growin' Up' set the tone for Springsteen's brand of loose, verbose folk-rock. 'Blinded' would further the Dylan analogy when Manfred Mann's Earth Band, who covered their share of Dylan tunes, took it to No. 1 in 1976, making it the only Springsteen song to ever top Billboard's Hot 100.
'Lost in the Flood' and 'It's Hard to Be a Saint in the City' were stripped of their power through the scaled-back arrangements (although, conversely, 'For You' would gain poignancy when Springsteen performed it solo on the piano). 'Does This Bus Stop at 82nd Street' is a slight-but-fun romp, and the acoustic numbers, 'Mary Queen of Arkansas' and 'The Angel,' were the album's weakest. Its most famous track, 'Spirit in the Night,' remains an important part of Springsteen's legendary live shows to this day.
At the time, Columbia's policy stated that debut albums had to feature a large photo of the act on the cover. But Springsteen felt that a vintage postcard he found in a shop in his hometown was more fitting, not only for its scenes of boardwalk bliss, but also for the title. Surprisingly, his label agreed, putting the oceanside resort town on the map for the rest of the world.
But despite having the full support of a major label and strong reviews, 'Greetings From Asbury Park, N.J.' fell on deaf ears upon its release. As Victor Wasylczenko — owner of a record store in Freehold, where Springsteen was raised — told author Peter Ames Carlin, "I sold more Partridge Family albums than I did of Bruce that first day. I had record-breaking numbers on the Partridges, in Bruce's hometown, the day his first album came out."
But there's a reason why, these days, Danny Bonaduce does reality shows and morning radio while Springsteen sells out arenas. Springsteen was too talented to be kept down for long. After his second album, 'The Wild, the Innocent and the E Street Shuffle" sold even less than his debut, Springsteen would hit the big time with 'Born to Run,' and he would stay on top for decades to come.
On Nov. 22, 2009, Springsteen closed out the 'Working on a Dream' tour in Buffalo by playing the 'Greetings from Asbury Park, N.J.' album in its entirety. "This was the miracle," he told the crowd. "This was the record that took us from way below zero to…one." The performance was dedicated to former manager Mike Appel, who bullied Hammond's secretary into giving his client an audition, and was in attendance. It was the last concert Clarence Clemons would play with the E Street Band before his passing on June 18, 2011.
Source:
41 Years Ago: Bruce Springsteen's 'Greetings from Asbury Park, N.J.' Released